5 Dad-Approved Tools To Optimize Your Family's Trip To Disneyland Resort
All the tools you need to make your Disneyland Resort vacation feel as magical as possible.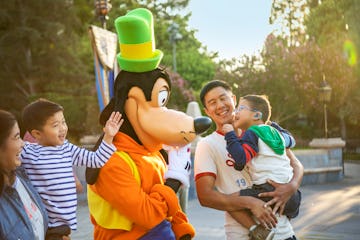 How many times have you heard a parent come back from a family vacation and say something like, "I need a vacation to recover from vacation?" If you don't have a game plan, creating lasting vacation memories for your kids can feel like an exhausting proposition.
A good dad plans a vacation for his family. A great dad optimizes that vacation to make their time feel as magical and enjoyable as possible. With all of Disneyland Resort's convenient and exciting features to help you plan and navigate, it couldn't be easier to be your family's vacation-planning hero.
Here are some Dad-approved tools to make your Disneyland Resort vacation your best family trip yet.
1. The Disneyland Mobile App
Honestly, there's just no way to truly optimize your vacation without the Disneyland Mobile app. When you link it to your reservation, the app ends up holding literally all your pertinent information in one easy-to-navigate place. Tickets, hotel keys, dinner reservations, Lightning Lane selections, Disney PhotoPass photos taken within the park … you name it, the app can keep it straight for you. You can also use it to create mobile food orders and even make purchases at some of the shops using merchandise mobile check out. It's the number one Disneyland Resort vacation must-have.
2. A Menu Of Ticket Options
Disneyland Resort doesn't lock you into a one-size-fits-all ticket. You've got options, but you'll need to think about more than your preferred budget when purchasing tickets. How many days in a row of walking, standing in line, and being out of their usual routine can your kids handle? Are you a one-park-per-day kind of fam, or do you want to hop between the two parks?
Remember that it's not just rides! Your family might want an extra day or two to make sure you get to tour Mickey Mouse's house in Mickey's Toontown, climb and explore at Redwood Creek Challenge Trail, and try out some new dance moves during the Disney Junior Dance Party. World-class shows like Tale of the Lion King and 3D experiences like Mickey's PhilharMagic are also great ways to round out a long day of exciting rides and character encounters.
Keep in mind that you might have a little more room in the budget than you think: Kids under 3 get to enjoy Disneyland Resort for free.
3. The Best Care For Your Littlest Family Members
If you're traveling with a little one, you'll want to make note of the Baby Care Center. It's not just an empty room to change a diaper or nurse! The fully-staffed baby care center offers a feeding area, toddler-friendly toilets, and even a vending machine of baby essentials.
Strollers and lockers are available for rent, and Disneyland Resort also provides ample stroller parking if you choose to bring your own. (Which you definitely should!)
Pro-tip: When the baby needs some rest and everyone is ready for a few minutes of downtime, hop aboard the Disneyland Railroad and enjoy a relaxing 18-minute ride around the park. There are 4 stops along the way, or you can ride it all the way back to where you started.
4. Your New Favorite Tools: Rider Switch & Lightning Lane!
Rider Switch is a free service that allows both parents to ride things that some of the kids can't. Just let a cast member at the beginning of the line know you'll be using rider switch, and they will let you wait together and ride one after the other. Easy!
Using the Disneyland Mobile App, you can also choose to purchase Disney Genie+ service and make use of the Lightning Lane attraction entrances. Cut down on wait times and make time management a breeze when you schedule return times for some of the most in-demand rides.
Another time maximizing tip? Make the most of your week by building in a rest day. Your Disneyland Resort hotel is a magical place to eat, relax and play, or you can plan a trip to Downtown Disney for a little out-of-park shopping and entertainment.
5. Services For Guests With Disabilities
Disney Parks have an unwavering commitment to providing a welcoming, inclusive environment and accessible experiences for their guests. Disney's services for guests with disabilities provides an overview of the many services and access options available at the Disneyland Resort.
Disneyland Resort is the perfect option for a family hoping to create lasting memories without all the stress and chaos of a DIY vacation. The geniuses at Disneyland Resort have thought of everything. You just have to put their well-designed tools in your vacation tool belt (Okay, okay, it's a fanny pack, but our lips are sealed!), and you're ready to share the magic of Disney with another generation of your very own family.
To enter a theme park, both a valid admission and theme park reservation for the same park and same date are required. Park reservations are limited, subject to availability, and are not guaranteed for any specific dates or park. Price, terms and entitlements are subject to restrictions, and change or cancellation without notice.