The 100 Coolest Dads in America Ranked, 2018 Edition
It's hard to put a finger on what makes a cool dad cool, but these guys definitely have it.
by Fatherly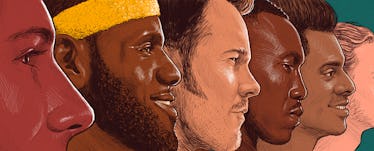 Kreg Franco for Fatherly
Fatherly's first annual ranking of America's coolest dads features a diversity of famous and admired men, all of whom have both kids and enviable lives. What makes these men cool dads? It's a big question; it's an abstract question. Some criteria — accomplishment, swagger, clarity or purpose — are fairly easily agreed upon, but cool dadness also shines in the execution. You know it when you see it. So, who is a cool dad? Simply put, the men on the list, each of whom is an engaged parent and a person striving to engage productively with the wider world. And, yes, these guys are also heartthrobs. There is, after all, something undeniably heartthrobby about the handsome iconoclast who makes it home in time for family dinner.
This list contains painters, entrepreneurs, chefs, designers, and a fair number of athletes. It features Roy Wood Jr., who might be the funniest man on Earth, and Matt Bomer, who might be the best looking. The common thread: These men are all exceptional and they are all — despite what their kids might say — cool as hell.
Check them all out or, if you want to be uncool about it, jump to our top ten coolest dads.
100Bill Simmons
Cool Dad Job: Writer, Editor, Podcaster
Cool Dad Vibe: Barstool Philosopher
Cool Dad Bona Fides: It's easy to forget that the Bill Simmons, aka the Sports Guy, is one of the first bloggers to ever make it big writing on the internet. In only a few years in the late 1990s, he went from writing hilarious 5,000-word screeds about Boston sports on AOL — while bartending at night to pay the bills — to a cult hero for millions of rabid sports fans across the country at ESPN. And in the process, he redefined the way sports were covered in America with a conversational style and heavy infusion of pop culture references and personal anecdotes, many about his two kids. He created the popular 30 for 30 documentary series, wrote two books, and launched Grantland, an intrepid sports-meets-culture site, before a highly publicized falling out with ESPN led him to HBO and eventually, to his own publication and podcast clearing house, The Ringer. Coolest thing he does? Employ Shea Serrano.
99Barack Obama
Cool Dad Job: Ex-President
Cool Dad Vibe: Measured
Cool Dad Bona Fides: You've already made up your mind about Obama as a president, but have you stopped to consider him as a man? Barack Obama may not be the coolest guy on this list — he's never hidden his nerdiness — but he brought style to his scandal-free White House for years, giving American kids and fathers someone to admire. He's been curiously quiet since, but one suspects his retirement will end abruptly when Sasha graduates from high school.
98Brandon Cardet-Hernandez
Cool Dad Job: Principal, Bronx Academy of Letters
Cool Dad Vibe: Somehow Pulling It Off
Cool Dad Bona Fides: Though only 33, Cardet-Hernandez, a Cuban-American who grew up in Orlando and has a taste for tailored suits, has long been a leading light in New York's Department of Education. He worked as a special education teacher at a high school in Hell's Kitchen, then a director of strategic initiatives for the New York City Department of Education before becoming the principal of the Bronx Academy of Letters in 2014. There he's instituted a range of programs from restorative justice and meditation classes to pop-up restaurants and a Gender and Sexuality Alliance. In 2017, Cardet-Hernandez and his husband, the former editor of Instyle Ariel Foxman, became fathers to Cielo, frequently seen on Instagram rocking pretty tight varsity jackets over onesies.
97Matt Bomer
Cool Dad Job: Actor
Cool Dad Vibe: So Handsome…
Cool Dad Bona Fides: Matt Bomer has been bouncing back and forth between Broadway and Hollywood for a decade. And it's no wonder why. He looks like an angel and he can do anything. Not only does he have a killer voice, but the guy can hang with Channing Tatum dancing his heart out in Magic Mike. The tireless and always impeccably groomed Bomer is also a dad of three with his husband Simon Halls. Bomer credits his Texas upbringing for parenting values that include "manners, respect, a good work ethic." How does plan to pass on that work ethic? By continuing to show his kids how it's done.
96Marc Dolce
Cool Dad Job: Sneaker Designer
Cool Dad Vibe: Athleisure Messiah
Cool Dad Bona Fides: Leaving Nike for Adidas is like leaving Coke to run Pepsi. And it was not a clean break when Marc Dolce made the transition. Lawsuits and bad blood followed. With the messiness finally behind him, Dolce set about creating shoes for Adidas in the deep and thoughtful way. His designs quickly found an audience and his approach, heavy on innovation and light on predictability, has fundamentally altered the path of the growing brand. At the same time as he's been helping fight the sneaker wars, Dolce has been raising his son Luca and his daughter Ava, who are starting to amass Instagram followings by flaunting daddy's work.
95Adrian Tomine
Cool Dad Job: Cartoonist, Illustrator
Cool Dad Vibe: Razor Sharp
Cool Dad Bona Fides: The author of nine books and the long-running comic book series Optic Nerve, Tomine is a master at zeroing in on and capturing the emotion of thought-provoking situations. That's why he's the go-to illustrator for The New Yorker. It's also why his graphic novel Killing and Dying, about the difficulty of having and maintaining a family, resonated with so many people. His work, which is often inspired by his wife and two young daughters, is both clear-eyed and loving. He draws for a living, but clearly has something to say.
94Minh Lê
Cool Dad Job: Children's Book Author, Early Childhood Policy Expert
Cool Dad Vibe: Sweet Wonk
Cool Dad Bona Fides: Minh Lê has dedicated his life to improving the lives of kids. His day job is as a Harvard-educated educational policy wonk, which is cool, but not nearly as cool as his job writing children's books (and writing about children's books). Lê has written two acclaimed titles: Let Me Finish!, about a boy who is constantly interrupted when trying to read, and Drawn Together, about a boy who visits his non-English speaking grandfather and connects with him through drawing. He's branching out with his current project: a comic book for DC entitled Green Lantern: Legacy. Lê is also focused on making sure his two sons are happy. One imagines they must be.
93Martial Vivot
Cool Dad Job: Master Barber
Cool Dad Vibe: Well Coiffed
Cool Dad Bona Fides: There are but few master barbers in the United States. One of them, Martial Vivot, a slight 48-year-old Frenchman with a taste for Commes des Garçon suits and rock-and-roll, is usually found at one of his two eponymous salons in Manhattan, a midtown joint for suits and a downtown salon for creatives. Vivot cuts the hair of not just the guy, but the guy behind the guy and, since he is usually standing behind them, that makes him the guy behind the guy behind the guy — a.k.a. the ultimate insider. As is a barber's privilege, he knows all the secrets from cowlicks to peccadilloes of today's masters of the universe and those same skills of active listening serve him well as the father two — Violette, 13, and Paul, 6 — with whom he lives with his wife, an avant garde florist, in New York City.
92Andrew McCutchen
Cool Dad Job: MLB Player
Cool Dad Vibe: Ex-Pirate
Cool Dad Bona Fides: Since making his MLB debut in Pittsburgh almost a decade ago, centerfielder Andrew McCutchen has been one of the best players in baseball (he won the National League MVP Award in 2013). What makes him popular with fans is that he clearly enjoys the game and has a real human personality in a sport where that's … unusual. Over the summer, McCutchen left a gig playing in San Francisco to become a New York Yankee. He came on for the playoff push, but he might end up finishing his career in the Bronx. The fans dig him. Last November, McCutchen announced that he had officially joined the dads club, with his wife Maria giving birth to their son, Steel Stefan McCutchen.
91Jay Fielden
Cool Dad Job: Editor-in-Chief, Esquire
Cool Dad Vibe: Cocktail Party MVP
Cool Dad Bona Fides: Because he's the Editor-in-Chief of Esquire, there is no shortage of photos of Jay Fielden looking dapper in a suit next to famous people. But that's not what makes him cool. Fielden stands out because, after stepping into the very large shoes of his predecessor David Granger, Fielden set about ensuring Esquire stayed relevant, pushing the magazine in a political direction and moving past the boy's club aesthetics. (To Wit: Fielden chose James Corden for the inaugural cover in a teal blazer and maroon shirt with white piping.) To back up the inclusive message of his famous title, Fielden writes regularly about his two daughters, Eliza and Clara.
90Scott Doorley
Cool Dad Job: Creative Director, Stanford d.school
Cool Dad Vibe: Collaborative
Cool Dad Bona Fides: Doorley calls himself a "work in progress," a suggestion that his 11 years at the helm of the d.school at Stanford is just the beginning of a truly epic life's work. Doorley is a designer and a design thinker. He lives and breathes the stuff, and his motto "make ideas tangible" suggests a motivation for the work that he does. At the d.school, he's not just a teacher and administrator, but also the designer of the different physical spaces that make up the school. His book, Make Space, is all about how to design spaces for creative collaboration, so it makes sense that he would apply that knowledge to his day job as well. He plays very well with others, including his kids.
89Mark Mothersbaugh
Cool Dad Job: Musician, Composer
Cool Dad Vibe: Deep Cut King
Cool Dad Bona Fides: If you still imagine Mark Mothersbaugh wearing a yellow jumpsuit and his red Devo "energy dome" hat, you're thinking about the right guy the wrong way. Since "Whip It," Mothersbaugh has been working steadily as a composer for film, TV, and video games. His work has been uniformly excellent — witness 2018's weirdly excellent Pandas or next year's Lego Movie 2 — but not at all uniform: The guy wrote the Rugrats theme song, the Crash Bandicoot soundtrack, and the original scores to most of Wes Anderson movies. When he's not making unique professional choices, Mothersbaugh is raising his daughters Mai Li Margaret and Hui Hui Hope, both of whom he adopted from China after they were abandoned by their parents while the "One-Child Policy" was in effect.
88Johnny Knoxville
Cool Dad Job: Professional Idiot
Cool Dad Vibe: The Smartest Jackass
Cool Dad Bona Fides: Jackass, the film and TV series that made Johnny Knoxville famous wasn't a stunt show in the traditional sense. It was a show about pain and jokes and idiocy. Knoxville, who never seemed to blink in the face of a deranged plan, was a standout. He got famous and he kept building on his legend, directing movies and continuing to debase himself as a comic actor and writer. In 2018, he released Action Point, which was actually very good. Oh, and he's a famously nice person with three kids, a 22-year-old daughter (who had a brief cameo in Jackass 3D), an 8-year-old son, and a 7-year-old daughter.
87Keith Eshelman
Cool Dad Job: Cofounder, Parks Project
Cool Dad Vibe: Outdoorsy
Cool Dad Bona Fides: After three years as the director of the shoemaking startup and dogoodery TOMS, Keith Eshelman left to cofound Parks Project, an apparel brand that simultaneously celebrates America's National Park System with rad merch and provides meaningful financial support for the maintenance of public lands. To date, The Parks Project has given funds to over 30 conservancies around the county that do on-the-ground work in parks. He told one interviewer that "One of my life goals is to build this business so I can bring my kids to all the parks one day." Those kids? 5-year-old Everly and 3-year-old Leo. That goal? Super admirable.
86Brad Stevens
Cool Dad Job: Head Coach of the Boston Celtics
Cool Dad Vibe: Nerdy Leader
Cool Dad Bona Fides: Brad Stevens is a basketball genius. During his coaching tenure at Butler, Stevens managed to become the youngest head coach in the history of college basketball to take his team to back-to-back National Championships. And so far, he's proven to be every bit as prolific in his transition to the NBA. When Stevens inherited the Celtics in 2013, they were one of the worst teams in the league. And just five years later, they were one game away from beating possible superhuman LeBron James and making the finals despite losing the team's two best players to injury. Did we mention he's only 41? Stevens is also a father of two, his son Brady and daughter Kinsey, and he has made it clear he considers his job as parent far more important than his coaching career.
85Ryan Gosling
Cool Dad Job: Movie Star
Cool Dad Vibe: Movie Star
Cool Dad Bona Fides: Ryan Gosling is a movie star in a simple, clear-cut way. He's handsome and charming. Men want to be him. Women want to be with him. What makes him a bit unusual is that he's also a sentimentalist. On GMA, he said of living with his wife, Eva Mendes, and his daughters: "It's heaven. It's like walking through a field of flowers every day. I live with angels." It's a lot, but he pulls it off. (And, yes, we know he's Canadian, but America has more-or-less claimed him as her own.)
84Stewart Butterfield
Cool Dad Job: Founder, Flickr and Slack
Cool Dad Vibe: Self-Effacing and Venture-Backed
Cool Dad Bona Fides: Butterfield is the exceedingly rare Silicon Valley entrepreneur who found big success more than once. He helped create Flickr, the massively popular photo sharing website eventually acquired by Yahoo and then, over a decade later, co-founded Slack, the workplace messaging software you're probably logged into right now. Famously, Slack was a detour for a video game company. But Butterfield, who has a reputation for being creative and funny, possesses a knack for seeing value and saw a chance to grow something big. Butterfield has an 11-year-old daughter, Sonnet, with his ex-wife and Flickr co-founder Caterina Fake.
83Peter Shapiro
Cool Dad Job: Founder, Brooklyn Bowl
Cool Dad Vibe: Stoner Chic
Cool Dad Bona Fides: If there's one thing Peter Shapiro knows how to do is how to put on a good show. Before he had kids, the 45-year-old ran Wetlands, one of New York's most legendary clubs. Now a dad, Shapiro presides over Rock and Roll Playhouse, a rapidly expanding concert concern in which real musicians play real songs in real venues for kids and their parents. From his office in downtown Manhattan Shapiro explains, "History matters. A real sound system with a real sound system as opposed to a gymnasium or a synagogue, matters. An air of a venue is different than a park or school." Now, the Playhouse is spreading across America. From Billy Joel to Phish to Bob Marley, his concerts appeal equally to parents and their kids. Thanks to Shapiro and his partner in the project, executive director Amy Striem, kids get to build their gross motor skills in a series of pedagogically sound exercises. Meanwhile, Dads get to rock out to sweet solos and relive their glory days.
82Dan Reynolds
Cool Dad Job: Front Man, Imagine Dragons
Cool Dad Vibe: Earnest Balladeer
Cool Dad Bona Fides: Before he was a rock star, Reynolds was a Mormon. And not a casual Mormon, if there is such a thing. Reynolds was all in, going door-to-door in Nebraska and eventually enrolling at Brigham Young University. During his freshman year, he was kicked out for having premarital sex and, at this low point, he decided to become a musician. We'd say he's been pretty successful; his band, Imagine Dragons, is one of the biggest bands in the world. Today Reynolds has the typical accoutrements of the rock star lifestyle: world tours, adoring fans, plenty of money. But he hasn't become a douchebag, choosing instead to live life with a sense of purpose which in his case, is making life better for LGBT youth, a group often shunned by the Mormon church. In their dad, his three kids have a great role model as they grow up, a rock star who, after some extreme difficulties, made the choice to improve the world he grew up in rather than burn it down.
81Tristan Walker
Cool Dad Job: Founder, Walker & Company Brands, Inc.
Cool Dad Vibe: Mission-Driven Entrepreneur
Cool Dad Bona Fides: Tristan Walker dresses like a Silicon Valley bro and has the resume — Twitter, Foursquare, Andreessen Horowitz — of a Palo Alto climber. So why is he on this list? Because Walker is one of the founders of Code 2040, a non-profit that helps minority college students secure jobs in the tech industry, and is now the founder of Walker & Company Brands, which aims to create health and beauty products for minority communities historically underserved by companies in the space. Its first effort, Bevel, is a shaving system designed to help black men prevent razor burn; a common annoyance. When he's not busy making moves, Walker is at home with his wife and his son, Avery James.
80Justin Kern
Cool Dad Job: Founder and Designer, Co
Cool Dad Vibe: Fashion Person
Cool Dad Bona Fides: Co is an LA-based luxury womenswear brand that Kern co-founded with Stephanie Danan, his life and business partner. Co's clothes are minimal, chic, and as inexpensive — as far as fashion clothes go. The brand got off to a hot start thanks to a series of short films starring Aubrey Plaza, Marisa Tomei, and Elodie Bouchez, all friends of Danan and Kern, who worked in films and as a model before starting his career as a designer. Now, he's revolutionizing women's jeans, which is harder than it sounds, while raising his son Jacob.
79Justin Timberlake
Cool Dad Job: Musician, Actor
Cool Dad Vibe: Showbiz Institution
Cool Dad Bona Fides: Not only did JT survive the boy band wars of the late 1090s and early aughts, he thrived. He's become a successful solo musician and a successful actor, appearing in films as varied as Black Snake Moan and The Social Network. JT has managed to remain cool since he was a teenager by never overplaying his hand. Though his latest album, Man of the Woods (that's what his son Silas's name means in Latin), was not a critical or massive commercial success, it showed that JT is still evolving as a performer. That's incredibly impressive for someone with more than enough laurels to take a nap on.
78Titus Welliver
Cool Dad Job: Actor, Artist
Cool Dad Vibe: Lots of Eye Contact
Cool Dad Bona Fides: The "Golden Age of TV" is also the age of TV glut. There are so many prestige shows it's impossible to keep track and so many indelible performances, it's easy to forget most of them. What makes Welliver stand out in Bosch, the detective drama entering its fifth season on Amazon Prime? He's good at acting. Seriously. It's that simple. Before starting on the show, Welliver had been something of a journeyman actor with supporting roles on Lost, Sons of Anarchy, The Good Wife and every movie Ben Affleck has every directed. Given the chance at a starring role, Welliver has sharpened his teeth and given a genuinely risky performance on a somewhat formulaic show. He makes it work while also making his home life work for his daughter Cora and two sons, Eamonn and Quinn. Oh, and he's a really good painter. Not celebrity good. Good.
77Kelly Sticksel
Cool Dad Job: Laser Master
Cool Dad Vibe: New Breed of Rock God
Cool Dad Bona Fides: Kelly Stricksel gives even God a run for his money. As founding member of the creative stage design company Fireplay, his job is to say: "Let there be light!" Stricksel is the brains behind iconic light and laser shows that have dazzled audiences watching spectacles as diverse as the Super Bowl Halftime Show, Blink-182, and Lady Antebellum. How good is he at his job? When Roger Waters wanted the iconic prism design from the Dark Side of the Moon album to come alive, Sticksel was the dude he called. Any kid would want to have Sticksel for a dad; if he can light up a Justin Timberlake concert, just imagine what he could do for nightlights.
76Luke Harwood
Cool Dad Job: Honey Maker
Cool Dad Vibe: Beach Boy
Cool Dad Bona Fides: Had Harwood merely taken the time to build a sustainable honey company in New Zealand — one that doesn't dilute its product or screw over its beekeepers — that would have been cool enough. But Harwood, who runs Activist Mānuka with his wife, Gabrielle Mirkin, a former Vogue staffer, takes cool a step further. He goes surfing with his beekeepers, holds meetings on the beach, and is working to save the local environment — all while making damn good A-grade raw Mānuka honey. And when he's not riding waves or scraping honeycombs, Harwood is caring for his son, Francisco River. So, yeah, he's good at names too.
75Charles D. King
Cool Dad Job: Film and TV Producer; Founder, Macro
Cool Dad Vibe: Capitalism With Conviction
Cool Dad Bona Fides: In 1997, Charles King took a job in the mailroom at the William Morris Agency, Hollywood's most storied talent firm, despite having a law degree. When he left three years ago to open Macro, a production company that makes content from the perspective of people of color, he had transformed himself into Hollywood's superagent to African-American stars, including Oprah Winfrey. Three films and nine Oscar nominations — plus one win, for Viola Davis in Fences — later, King's on a roll. One he hopes to continue this year with his hit Sorry to Bother You, a dark comedy starring Lakeith Stanfield and Tessa Thompson. When not changing the face of American entertainment, King raises his sons Noah and Julian with his wife Stacey.
74Jonathan Benedict
Cool Dad Job: Creative director, Hyperballad Music
Cool Dad Vibe: Connected
Cool Dad Bona Fides: It's people like Jonathan Benedict who give Brooklyn its reputation as a place where cool stuff happens and cool people live. He's the creative director at Hyperballad Music, a music studio and creative agency in the heart of the borough. Hyperballad has done branded work for brands like Nike and the NBA and Benedict has worked with musicians like Azealia Banks.
73Ta-Nehisi Coates
Cool Dad Job: Writer
Cool Dad Vibe: Genius in Exile
Cool Dad Bona Fides: Coates dropped out of college to become a journalist and became one of the most prominent journalists in America. Sure, Coates hit the jackpot with his first editor, the legendary David Carr, at the Washington City Paper, but his success was far from assured. He bounced around different publications for years until finding his place at The Atlantic, where his features became must-read cultural blockbusters at a time when the idea of a must-read magazine article was losing credence. Then Coates published Between the World and Me, a haunting work that upends traditional scholarship on race relations, providing no clear-cut solution and emphasizing the inevitability of inequality and conflict. Coates is not a comforting figure for most, but he is for his son Samori Maceo-Paul, whom he is raising in Brooklyn while working on Black Panther comics and continuing to keep his head on straight despite growing celebrity (he won a MacArthur Genius Grant) and renown.
72Ryan Murphy
Cool Dad Job: TV Producer
Cool Dad Vibe: Strangely Fabulous
Cool Dad Bona Fides: Ryan Murphy is one of the most powerful men in television. He has created and produced a ludicrous number of off-kilter shows, including Popular, Nip/Tuck, Glee, The New Normal, The Normal Heart, Scream Queens, American Crime Story, Feud, American Horror Story and 9-1-1. And he's not done. His shows Ratched and Consent are still on the way. His uncompromising vision may get even more eccentric going forward. He signed a $300 million deal with Netflix this year. That means he'll have even more creative control, which is good news for TV lovers. Murphy, who is married to photographer David Miller, is raising his sons Logan and Ford, both of whom were born via surrogate, in the free time he doesn't devote to activism. Frankly, it doesn't seem like the guy sleeps.
71Joe Thornton
Cool Dad Job: NHL Player
Cool Dad Vibe: Overgrown Kid
Cool Dad Bona Fides: Joe Thornton is a damn good hockey player and he has been for a long time. Thornton was the first overall pick in the 1997 NHL draft and has been a mainstay of the league, leading in points and winning the MVP, ever since. Jumbo Joe will begin next season as a 39-year-old center and the alternate captain for the San Jose Sharks. His legacy secure, Thornton has gotten weirder, growing a huge beard, refusing to wear a shirt, and making jokes during press conferences. He clearly enjoys what he does and his enthusiasm makes him the NHL's most likeable character. Off the ice, he spends his time entertaining his wife and two kids, an eight year-old daughter Ayla and a five year-old son, River.
70Jason Momoa
Cool Dad Job: Action Hero
Cool Dad Vibe: Tough Hippie
Cool Dad Bona Fides: Jason Momoa has carved a career out of playing the type of guy who can take down a bear or band of warriors with little more than bicep flex. As Khal Drogo, Game of Thrones' doomed Dothraki chieftain, he was the epitome of ancient savagery; as Justice League's trident-brandishing Aquaman, he's a reluctant hero with the brash cool of an adrenaline junkie. Both characters are, like Momoa, a little bit wild. Momoa, who was born in Hawaii, raised in middle America, and periodically peripatetic brings a unique sensibility to his parenting: The father of two boys, he prides himself on raising "feral" kids who feel at home in the woods and know how to sew and climb and skate. To him, fatherhood is a dynamite supporting role in a blockbuster adventure. Sounds about right.
69Ben Silbermann
Cool Dad Job: Founder, Pinterest
Cool Dad Vibe: Well-Crafted Tech Dude
Cool Dad Bona Fides: Growing up in Des Moines, Ben Silbermann collected dried insects and pinned them to pieces of cardboard to show them off. Sound familiar? It should. Silbermann — now a Yale grad, Google alum, and 36-year-old internet entrepreneur — is the guy who made 'pinning' stuff popular on the internet when he co-founded Pinterest, the visual discovery, collection, and sharing site in 2010. His goal was simple, to inspire people to go out and do stuff — whether it's decorate their house, knit a sweater, or plan a wedding. What makes Silbermann stand out is that he's fabulously successful, very rich, and has been totally scandal-free. He's got a nice-guy reputation in a field known for its creeping competitiveness. Silbermann lives in San Francisco with his two sons and his wife, who came up with the name Pinterest.
68Travis McKenzie
Cool Dad Job: Athlete, Entrepreneur
Cool Dad Vibe: Endurance Evangelist
Cool Dad Bona Fides: For Travis McKenzie, being an elite triathlete wasn't enough. He was compelled to do more and so he did, starting NTSQ Sports Group (it stands for Never the Status Quo), which puts on luxury cycling vacations. Even a brutal car accident in 2015 couldn't stop McKenzie, who completed a triathlon just one year later. Now, he's tackling the ultimate endurance test. Her name is Adelina and she's a toddler.
67Mahershala Ali
Cool Dad Job: Actor, Rapper
Cool Dad Vibe: That Guy Who Was Great in That Thing
Cool Dad Bona Fides: Mahershalalhashbaz Ali Gilmore is an actor and rapper. He's been working for almost two decades, but he became a nearly household name after playing Juan in Moonlight and winning the Best Supporting Actor Oscar. It didn't hurt that he was the coolest looking guy at the ceremony. Now, he's got a full slate of movies on the horizon, including Green Book and Alita: Battle Angel, a young daughter, Bari Najma Ali, and a massive future in front of him. Have you seen the True Detective trailer? Guy is gonna be everywhere.
66Jon Buscemi
Cool Dad Job: Founder and Designer, Gourmet
Cool Dad Vibe: Design God
Cool Dad Bona Fides: Buscemi's entire career trajectory reads like the plot of an inspiring movie. He had a cushy job in investment banking but it wasn't what he was truly passionate about. So he gave up this lucrative gig to pursue his passion for sneakers and landed a job at DC Shoes, then Lotto, then a role as Brand Director at Oliver Peoples. Up next: striking out on his own with Gourmet, a men's casual footwear brand, and then his own eponymous line of handmade, luxury sneakers. Buscemi's hard work and laser sharp instincts have earned him a fanbase in the upper echelons of music and sports, creating huge demand for his designs. Buscemi is much more than a rising star in the sneaker game, he's also a family man, as he is happily married and raising a son we can only assume has the best kicks on the schoolyard. Lastly, while this didn't earn him a spot on the list, it certainly doesn't hurt that Jon's cousin is beloved character actor Steve Buscemi.
65Ned Fulmer
Cool Dad Job: Actor, Writer
Cool Dad Vibe: Improvisational
Cool Dad Bona Fides: Ned Fulmer got famous as one of BuzzFeed's "Try Guys." He drag raced in drag, faced off with a UFC fighter, used a labor pain stimulator, attempted to hit a 95 mph fastball (fail), tasted edible underwear, and brushed up on his BSDM. Now one of the founders of 2nd Try LLC, a production house, Fulmer has been documenting his transition to fatherhood, which he's handling with characteristic aplomb. He and his wife Ariel, a perennial internet video extra, welcomed baby Wes earlier this year. Yes, Wes is already trying stuff out.
64Jimmie Johnson
Cool Dad Job: NASCAR Driver
Cool Dad Vibe: Fast and Not Furious
Cool Dad Bona Fides: Jimmie Johnson may be the fastest dad on wheels. As pro stock car driver, Johnson is a 7-time NASCAR champion who won the Daytona 500 twice in his 16-year NASCAR career. Along with tearing up the track in a Chevy Camaro ZL1, the 43-year-old native Californian is raising two girls, Genevieve Marie and Lydia Norriss. But Johnson's daughters aren't the only kids he cares about. Johnson is a spokesperson for the Ban Bossy campaign to empower leadership in young women and through the Jimmy Johnson Foundation he's raised over $8 million in donations to aid K – 12 public education in California, North Carolina, and Oklahoma.
63John Gourley
Cool Dad Job: Being Portugal. The Man.
Cool Dad Vibe: Hipster Heartthrob
Cool Dad Bona Fides: The lead singer of Portugal. The Man had an interesting childhood. He moved from town-to-town in Alaska, sometimes living off the grid and helping to take care of the sled dogs his parents used to compete in the Iditarod. He dropped out of high school and played in a punk band for a while before forming Portugal. The Man in 2006. The band paid its dues as an independent act before signing with Atlantic in 2010. Headlining tours, an album produced by Mike D, and a Grammy followed. Gourley supplied much of the creative energy that made the band successful, then married bandmate Zoe Manville and had a daughter, Frances, in 2011. And there's still new music coming.
62Dustin Lance Black
Cool Dad Job: Filmmaker and Activist
Cool Dad Vibe: Activist Auteur
Cool Dad Bona Fides: Every artist brings their life into their work, and Black turned a turbulent childhood and struggles with accepting his homosexuality into a career as a filmmaker exploring those very themes. His efforts are remarkable for how thematically consistent they are with each other and with his own life. He's creating something bigger, an artistic statement across fiction filmmaking (Milk, The Journey of Jared Price), theatre (8), and television (When We Rise) that is both astonishingly varied and amazingly consistent. It takes a guy with a real vision to find this level of success, and one with a lot of balls to draw so much from such painful experiences. Black is married to Olympic diver Tom Daley (landing a jock, extra cool points) with whom he welcomed his first child, Robert Ray Black-Daley, in June.
61Chris Pratt
Cool Dad Job: Action Hero
Cool Dad Vibe: Recently Ripped
Cool Dad Bona Fides: Pratt really made a name for himself on Parks and Recreation as Andy Dwyer, a DMB-loving man-baby with a heart of gold. As the show became more and more popular, Pratt's gift for physical, often embarrassing, comedy endeared him to millions. After that series came to an end, Pratt got ripped. Thereby, giving hope to us all. Now he's a leading man in three massive movie franchises: the Guardians of the Galaxy films, the Jurassic Park reboot, and The Lego Movies. As a father, he's both a funny man and rock solid. Pratt's son Jack was born nine weeks premature and spent the first few weeks of his life in the NICU. Though Pratt and Jack's mom Anna Faris have since split up, he remains a dedicated dad, committed to Jack despite what must be a grueling professional schedule.
60Doug Conklyn
Cool Dad Job: SVP, Speedo
Cool Dad Vibe: Uncool Coolness
Cool Dad Bona Fides: As a brand, Dockers used to bring to mind images of diaper-butt business casual khakis that would look at home in Bill Gates's '90's closet. (Sorry, Bill). So when father of four, Doug Conklyn took over the venerable brand in 2010, he had his work cut out for him. Conklyn took his own daredevil attitude — he's an avid skateboarder — and experience working for Ralph Lauren, American Eagle, and Levi's to remake the brand into something you'd actually want to wear. He ditched the parachute-like cuts, added more daring prints (camo!), and refocused the brand around its authentic American roots. In January, he left Dockers for Speedo, eager for another challenge, as if two sets of twins — that's right, twin twins — wasn't enough.
59Colin Tunstall
Cool Dad Job: Co-Founder and Creative Director, Saturdays NYC
Cool Dad Vibe: Best-Dressed Dude on the Beach
Cool Dad Bona Fides: It takes an extra-special kind of guy to open a surf-shop in downtown Manhattan, ballsy and sure. Tunstall is both. With the surf shop/coffee shop/fashion boutique Saturdays NYC, he took the best parts of surfing, coffee, and menswear culture, left the pretentious crap behind, and made something that has resonated for nearly a decade and now has locations around the world. Tunstall is a driving force behind the clean, minimalist look that has come to define the brand. His daughter, Ombeline, appears to be following in her father's footsteps, at least according to the fly pink beret the younger Tunstall was wearing in an Instagram photo her dad posted in March.
58Preet Bharara
Cool Dad Job: NYU Law Faculty Distinguished Scholar in Residence, Podcaster
Cool Dad Vibe: Tough Moralist
Cool Dad Bona Fides: Preet Bharara has long been known for being an outspoken and aggressive prosecutor of Wall Street corruption and white-collar crime. During his tenure as the Attorney for the Southern District of New York, he went after insider trading, the Madoff scheme and worked on Russian money laundering, cybercrime, and terrorism prosecution. Although he worked in the Southern District for almost a decade, his most high-profile act may have been the way he exited his office: shortly after Attorney General Jeff Sessions ordered all 46 Obama-appointed Attorneys to step down, Bharara refused, and was subsequently fired. Since then, he's taken to being an outspoken critic of the administration both on his podcast and on his Twitter feed. Along with his wife Dalya, Bharara has three school-aged children, with whom marched at the March For Our Lives and supported in subsequent school walkouts to fight for gun control. He also seems like the type of dude who could sniff out just a whiff of a lie, which probably makes him a very good dad.
57Sam Aquillano
Cool Dad Job: Founder and Executive Director, Design Museum Foundation
Cool Dad Vibe: Artsy Red Sox Fan
Cool Dad Bona Fides: When they want to start a museum, most people focus on getting a building and filling it with stuff. Sam Aquillano wasn't satisfied with the conventional way of doing things. As a professional industrial designer, he was used to reimagining and recreating everyday items, so he decided to strike out on his own and recreate the design museum. The founder of the Design Museum Foundation believes that, because design is everywhere, design museums should be everywhere. The DMF is a network of city-based, nomadic museums designed to educate and inspire people. For example, an exhibition called "Design for Dining" is currently being staged at seven restaurants in Boston, each with a "dining experience" designed by one of seven firms. When Massachusetts-based Aquillano isn't on the job, he's taking his young daughter on adventures and working in the family garden.
56Mark and Jay Duplass
Cool Dad Job: Ubiquitous Showbusiness Persons
Cool Dad Vibes: Austin to the Max
Cool Dad Bona Fides: Siblings Mark and Jay Duplass became famous for their low-budget-but-brilliant amateur films The Puffy Chair and Cyrus, had a banner year in 2018. Not only did they produce the Netflix documentaries Wild, Wild Country and Evil Genius, they continued to work on HBO's Room 104, and release their co-written memoir Like Brothers. But despite all this brotherly love, the Duplass's also announced their (semi) separation in 2018. They claimed they need time away from each other to become better at their own families. And it's that kind of vulnerable honesty that makes them not only great artists, but great fathers.
55Nils Ericson
Cool Dad Job: Photographer
Cool Dad Vibe: Auteur
Cool Dad Bona Fides: One quirk of professional photographers is that they describe their work as "making" photos, not "taking" photos. This verb choice reflects the hard work that goes into their art. Nils Ericson, a RISD graduate and Brooklyn resident, seems to work especially hard to capture muted but emotional images of people who seem to have drifted into a private world. "I want my photos to feel like black and white, but in color," he says, summing it up rather nicely. Athletes are his most frequent subjects and, in his images, they are seen as tired warriors. In his self portraits he looks much the same. His photos of his partner Regina and their son Emmett? Well, they're much better than your home photos.
54Masood Ali Khan
Cool Dad Job: Model, Musician, Meditator
Cool Dad Vibe: Handsome Radical
Cool Dad Bona Fides: Khan's self-described "soul mission" is "to help humanity with every talent possible." And he has a ton of talents. As a musician, he's composed, produced, and recorded music in the Kirtan tradition. As a yogi and meditation instructor, he's inspired countless pupils. Speaking of yoga, he's also a certified yoga teacher and meditation instructor. Khan recently served as the Head of Faculty for Universal Energy at the Open International University of Complementary Medicine in Colombo, Sri Lanka. We don't know what that means either, but he's definitely a very thoughtful, very open man — one who has also leveraged his good looks into work as an actor and model. He's married to fellow yoga teacher Alyson Cook, with whom he has one son.
53Paul Scheer
Cool Dad Job: Actor, Comedian, Producer, Podcast Host
Cool Dad Vibe: Self-Aware Theater Kid
Cool Dad Bona Fides: Paul Scheer is obviously whip-smart, but he's also an insanely talented polymath. After getting his start in the short-lived MTV sketch series Human Giant, the UCB-alum found fame as perpetually put down plastic surgeon Andre on FX's The League. He's worked seemingly non-stop ever since: writing, producing, and acting in some of the best offbeat shows and movies of the past decade (Children's Hospital, Fresh Off the Boat, Veep, and The Disaster Artist) and regularly performing in acclaimed improv shows around the country. He's also written a few Marvel comic books and, alongside his wife June Diane Raphael, hosts the hit movie podcast "How Did This Get Made?" You feeling busy? Scheer is doing all that, in addition to being a dad. Here's what he told about raising kids: "Your entire life will change. But it's the fucking best and it just gets better and better. Also, your wife is always right."
52Ty $ign
Cool Dad Job: Rapper
Cool Dad Vibe: Sunglasses at Night
Cool Dad Bona Fides: No squeamish prude, Ty Dolla Sign rose to fame on the strength of his lascivious boasting, impeccable flow, and musicianship. He came by his skills rightly. His father, Tyron Griffin, was part of seminal funk band Lakeside. A SoCal kid, Ty — real name Tyron William Griffin Jr. — grew up ingesting not only hip hop but jazz, punk, and ska. All make appearances, often under fairly outré lyrics in hits like "So Am I" and "Paranoid." At age 20, Ty became a father to Jailynn Griffin. Though he soon split up with the girl's mother, his daughter now 13, remains a large part of his chaotic life. Though he's faced criticism in the wake of recent drug charges, the way he has married a wild public persona with a positive relationship with his kid is extremely admirable. Jailynn frequently appears on the red carpet and the radio with her dad. She seems great.
51Ace Hood
Cool Dad Job: Rapper
Cool Dad Vibe: Relentlessly Positive
Cool Dad Bona Fides: Ace Hood, real name Antoine McCollister, rose to fame with the kind of swaggering hard-ass bangers that made Cash Money records both its cash and its money. Case in point: 2013's mega-hit "Bugatti." But after the birth of his daughter Sailor Blu (and tragic death of her twin-sister, Lyric), Hood began to change. Now a father of two — his son, Antoine Jr., was born in 2014 — the independent artist raps about emotional vulnerability ("Hate to say this, I ain't been a father lately / And I feel like I been a screw up / But then again everybody needs to tune up") and frequently peppers in 'grams of him cuddling his kids along with the many of him shirtless in beast-mode. Ace Hood's second act is going well. Since going independent in 2017, Hood has been selling out venues across the country — he brings his kids to see "dad work" — and had to see his Trust The Process and Trust The Process 2: Undefeated eclipse 100 million streams.
50Jason Schott
Cool Dad Job: COO, Schott NYC
Cool Dad Vibe: The Good Son
Cool Dad Bona Fides: Leather jackets have never not been cool, so it stands the reason that the guy behind one of the best leather jackets in the world is also one of the coolest dads in the world. Jason Schott's family invented the double-rider or "Perfecto" leather jacket in 1928. It's a classic, the jacket rocked by Marlon Brando in The Wild Ones and The Ramones pretty much constantly. In addition to his clothes, we're also big fans of Schott's determination to keep manufacturing his company's leatherwear at a factory in Union, New Jersey, instead of moving it overseas. He's the fourth generation of Schotts to run the company in America and that fifth generation is, under his watchful eye, getting ready.
49Colin Trevorrow
Cool Dad Job: Film Director, Producer, Screenwriter
Cool Dad Vibe: Spielberg 2.0
Cool Dad Bona Fides: Trevorrow is a guy who scrapped, worked hard to earn his shot at the big leagues. Trevorrow got his start with self-financed online shorts like "Home Base" and indies like Safety Not Guaranteed. He had a big chance with Star Wars: Episode IX, but left the project when Disney wanted to change the script his longtime writing partner had written. After another film of his received negative reviews, he talked in an interview about "moments in your life when your kids see that you've fallen down. And they watch, waiting to see if you're going to get up. And how you handle failure will teach them how to handle it themselves." Now he's back as the director of the upcoming Jurassic World III. Teaching his two kids such a valuable lesson in such a public way shows that he's a great dad. Having the vision to make movies his way, no matter the consequences, shows that he's a cool dad.
48Rory Scovel
Cool Dad Job: Comedian
Cool Dad Vibe: Gonna Get the Last Laugh
Cool Dad Bona Fides: It's too easy to miss the talented, and supremely cool comedian, Rory Scovel. Sure, he has his own stand-up special on Netflix (Rory Scovel Tries Stand-Up For the First Time); has been featured on Conan an impressive eight times; and has even recorded an album with Jack White's exclusive label Third Man Records (naturally, it's only available on vinyl). But it might be so easy to miss him because his persona, on and off the stage, is a laid-back dad, the kind who genuinely loves what he does and who he surrounds himself with. Scovel lives in Los Angeles with his wife, actress Jordan Boughrum Scovel, and their daughter, Elliot who was born in in 2015. Both make regular appearances on his Instagram, often in the form of earnest expressions of love for them while on tour. (Clearly, it's more for his family than for any of the funny man's followers.) He crushes packed theaters throughout the country, openly acknowledges that his overwhelming love for his daughter brings him to tears, and still makes time to goof off with the love of his life.
47KAWS
Cool Dad Job: Artist
Cool Dad Vibe: Streetwear Warhol
Cool Dad Bona Fides: If you watched TV in the 1990s, you saw Brian Donnelly's work. Donnelly, who goes by the artistic mononym KAWS, used to be a freelance animator, creating backgrounds for Daria and Doug. He then spent time as a graffiti artist and subvertiser before becoming an accomplished sculptor and screenprinter. His non-branded work, which has been creeping onto expensive t-shirts in expensive stores in expensive urban neighborhoods, features pop culture figures with X-ed out. But what's really set him about is his willingness to collaborate on a host of different projects, including magazine covers, Japanese toys, beer bottles, guitar picks, and sneakers. He's working constantly, but still finds the time to take his two daughters, Sunny and Lee, to the park.
46Todd Carmichael
Cool Dad Job: Founder and CEO of La Colombe, Adventurer
Cool Dad Vibe: Mission-Driven, Caffeinated
Cool Dad Bona Fides: In addition to founding La Colombe Coffee Roasters, the dove-logo'd, rapidly expanding Starbucks-alternative, the 55-year old Carmichael is perhaps best known as being the first American to cross the South Pole by foot, unassisted, which he did in 2008. Less well publicized but no less germane, are his days living on a 1927 French yacht he restored himself, or his years spent as an envoy to Saudi Prince Faisal bin Salman bin Abdulaziz Al Saud or that time he got himself dropped onto Nagigia, a remote Fijian island, where he spent three months surfing and building himself a hut. These days Carmichael, who married to Laura Hart, daughter of Philadelphia Flyers legendary announcer Gene Hart in 2005, divides his time opening coffee shops — La Colombe just opened its 30th — and hanging out at his home outside Philadelphia with his four children, Yemi, 16, Yordi, 13, Selah, 10, Bek, 7, all of whom were adopted from Ethiopia.
45Eric Ripert
Cool Dad Job: Chef, Le Bernardin
Cool Dad Vibe: Exacting
Cool Dad Bona Fides: Eric Ripert, one of New York's most lauded French chefs, runs a tight ship at Le Bernardin, his three-Michelin-star temple to fine dining. But as a devout Buddhist, Ripert tries to maintain a balance too. He tries to live his life as the Buddha advised, "not too loose or too tight." A few years ago, as he recently told Fatherly, Ripert realized he needed to compartmentalize and how the chef divides his life into thirds. One-third of his time and energy is spent at the restaurant; a third is spent on himself and a third is spent with his family, which includes his wife Sandra and their teenage son, Adrien. "If you don't have a clear vision and create guidelines and of course maintain a certain discipline," he says, "you cannot really be very efficient or realize what's good for your family or yourself or work." From the looks of it, he's doing it all right.
44Mike Tomlin
Cool Dad Job: Head Coach, Pittsburgh Steelers
Cool Dad Vibe: Stoic
Cool Dad Bona Fides: The head coach of a team in the National Football League is always on the hook — to answer for a player's actions, a team's failures, or a record that has too few Super Bowl appearances. This, at least according to one of the most storied coaches in the league, is very different from fatherhood. "I try to be the best dad I can be," says Pittsburgh Steelers head coach Mike Tomlin, "but I realize I don't always have the answers." Blunt, to-the-point honesty like this has been a Tomlin trait since he was tapped to lead the storied Steelers franchise at the ripe young age 34 (the all-time-youngest NFL head coach). Two years later, with an infant daughter, Harlyn Quinn, and two sons under 8 years old, Michael and Mason, he lead his team to a Super Bowl championship over the Arizona Cardinals. Since then, Tomlin has led the Steelers to a 116-60 record and made the playoffs in all but three seasons. More importantly, his oldest son is now a senior in high school and, like dad, found an answer in football. The scholarships are already rolling in.
43Ami James
Cool Dad Job: Tattoo Artist
Cool Dad Vibe: Edgy But Sweet
Cool Dad Bona Fides: When it's hot and the other dads take off their shirts at the playground to show off their tribal tats, Ami James, the much heralded tattoo artist, keeps his canvas covered. James, 46, is perhaps best known as the tattoo artist featured in Miami Ink and NY Ink. But when he's not plunging a needle filled with ink into the hides of any of the celebrity clients at his Miami parlor Love Hate Tattoo, he's raising his own daughters, ten-year-old Shayli and six-year-old Nalia. No word yet on whether they're yet inked.
42Virgil Abloh
Cool Dad Job: Fashion Director, Louis Vuitton Menswear
Cool Dad Vibe: Streetwear Intellectual
Cool Dad Bona Fides: Virgil Abloh has degrees in civil engineering and architecture, but he's not on this list for designing bridges or buildings. He's on this list because you've seen his clothing on trendsetters and his shoes on every hypebeast in New York and Los Angeles. A fruitful partnership with Kanye West, whom Abloh met (very much on purpose) at a screen printing business has led to a Grammy for the Watch the Throne album cover, a gig leading West's design agency, the launch of his own fashion house, Off-White, and, now, a plum gig at Louis Vuitton. Abloh has now relocated his family to Paris, but they still maintain a house outside of Chicago near where he and his wife, whom he first met in high school, grew up. He has two children, a daughter named Lowe and a son named Grey (off-white indeed).
41Lakeith Stanfield
Cool Dad Job: Actor
Cool Dad Vibe: Magnetic Goofball
Cool Dad Bona Fides: Lakeith Stanfield won an Independent Spirit Award for his starring role as a troubled teen in Short Term 12. But he really became a household name thanks to his roles as Darius in Atlanta, Andrew Logan King in Get Out, and Cassius "Cash" Greene in Sorry to Bother You, all movies and shows which have been critical darlings and commercial successes. Stanfield brings a trippy realness to all of his roles — his characters who seem to exist on a bit of a slant in the best way possible (So do his words: he also writes poetry and raps). He recently welcomed his first child with his partner, Xosha Roquemore. Good luck figuring out anything else on that, tough — Lakeith is famously close to the chest about his kid and refuses to discuss it any further. His insistence on separating his personal and professional lives makes him a protective father in the public sphere.
40Josh Weil
Cool Dad Job: Novelist
Cool Dad Vibe: Pure Talent
Cool Dad Bona Fides: Josh Weil is a writer's writer, one who has been honored with all the snobby literary awards you can think of; the Pushcart Prize, The Nation Book Foundations' 5 Under 35, and other accolades you can read about elsewhere. But you don't read Weil and think about his lists of awards, you read him because he's great and then you realize he can write just about anything. There's The New Valley, a trio of novellas about hardscrabble men in the unforgiving Virginia backcountry; The Great Glass Sea, a novel, which takes a fantastical spin on brotherhood, family, and life in an alternate-present Russia; and The Age of Perpetual Light, a short story collection that follows a cast different characters from the creation of the lightbulb into a future that's perpetually lit. Each is bizarre, beautiful, and brilliantly rendered. Weil is a father to a 3 year old boy and a step-father to a 15 year old girl, and lives in The Sierra Nevada.
39Brian Grossman
Cool Dad Job: Co-Owner, Sierra Nevada Brewing
Cool Dad Vibe: BBQ All-Star
Cool Dad Bona Fides: Brian Grossman was born to brew beer. His father founded Sierra Nevada Brewing Company in 1980 and, a few years later, Brian was toddling around the idyllic compound in Chico, California, climbing into malt sacks and sliding down conveyor belts. Having learned from his dad, one of the most innovative and hardest working brewers in American history, Grossman has taken his skills to Asheville, NC. There, he spends his time as an avid outdoorsman climbing, hunting, fishing, camping, biking and skiing the Smoky Mountains with his own growing family. That family includes 5-year-old Jaxon and 16-month-old Julia, all the while running Sierra Nevada's East Coast operations and innovating new beers with his dad. Want to see (taste) a second-generation genius's work? Get your hands on a Hop Hunter IPA and toast an American dynasty.
38Josh Luber
Cool Dad Job: CEO and Co-Founder, StockX
Cool Dad Vibe: Fun-as-Hell Business Bro
Cool Dad Bona Fides: Josh Luber's full name is Josh Luber, JD, MBA. He got both of his post-graduate degrees from Emory University before taking a series of corporate jobs. Not one to be boxed in, he left steady paychecks behind and started Campless, a "sneakerhead data" company that analyzed and published data on the insane world of collectible sneakers. Along with noted Comic Sans user and Cavs owner Dan Gilbert, he subsequently founded StockX, a "stock market of things" that connects buyers and sellers using the same methods as the NYSE. The company grew massively in 2018 and the sky is the limit. And, yes, his two young children have very cool shoes.
37Roy Wood, Jr.
Cool Dad Job: Standup Comedian and Daily Show Correspondent
Cool Dad Vibe: Fun and Funny
Cool Dad Bona Fides: Roy Wood, Jr. doesn't have a schtick. He has an on-stage persona that feels increasingly real and fleshed out as he becomes better known. Wood's laconic southern delivery — he grew up in Alabama — gives way to incisive takes. He cuts through absurdity with extreme prejudice and faces down real prejudice with extreme absurdity. "A lot of people just straight up don't know what it's like, you gotta educate them," he says of the ignorant in Father Figure, a recent stand-up special. He's right and he's working on it. He's also raising a family. Wood lives in Hell's Kitchen with his girlfriend, Salone Monet, and their two-year-old son, who is already making his way into Wood's act. Father Figure features dad pondering how to explain a world filled with Confederate statues and $9 smoothies. We don't know the answer, but Wood is gonna figure it out.
36Sebastian Copeland
Cool Dad Job: Adventurer, Activist, Photographer
Cool Dad Vibe: Woke Magellan
Cool Dad Bona Fides: The fact that Sebastian Copeland knows Daryl Hall and John Oates probably won't register as cool at any point for his two daughters, both currently under the age of five. They won't remember their dad for his former jet-setting career as music video director and fashion photographer. Instead they'll likely know him for the truly epic explorer he's become. For a taste: Copeland has kite-skied across Greenland in 43 days, became the first person to cross Antarctica from east-to-west by foot (that's 2,500 miles), set a record for crossing Australia's Simpson Desert unassisted, and retraced Admiral Robert Peary's trek to the North Pole. While exploring the most remote places on Earth, Copeland captures a world in change, offering up impactful images of our fragile planet with books like Arctica: The Vanishing North), documentaries like Into the Cold, and lectures that draw large audiences he hopes to turn into "badass eco-warriors," just like his daughters will probably be.
35Humberto Leon
Cool Dad Job: Creative Director at Kenzo
Cool Dad Vibe: New York Eccentric
Cool Dad Bona Fides: Humberto Leon's name has a grandiose, larger-than-life quality that suits his status as half of one of the most dominant (non-romantic) power couples in fashion. Leon and Carol Lim founded Opening Ceremony in New York in 2001. While nominally a store, Opening Ceremony is better thought of as a rotating, curated collection. It's such a fascinating spot that, a decade after it opened, Leon and Lim were named co-creative directors for French luxury fashion house Kenzo. The brand had been on the decline, but Leon and Lim brought a new energy and (with some help from celebrity friends like Spike Jonze) and revitalized it at speed. Leon and his partner, musician Patrick Wilson, have twin daughters, Emi Leon-Wilson and Mazzarine Leon-Wilson. On their first Father's Day as parents, they wrote a blog for Opening Ceremony that ended with a sentence worth reading: "We both had always dreamed of being dads, but never really thought we'd be able to make it a reality." They did. Thank goodness.
34Martellus Bennett
Cool Dad Job: Retired NFL Tight End, All-Purpose Creative Dude
Cool Dad Vibe: Fun Weirdo
Cool Dad Bona Fides: Martellus Bennett put together an impressive 10-year career as a tight end in the NFL. He had more than 4,500 yards receiving, caught 30 touchdowns and won the Super Bowl with the New England Patriots. But there's a lot more to Bennett than his pass-catching abilities., Since retiring in 2017, he launched his own production company, The Imagination Agency, and has authored multiple kids books, including Hey AJ, It's Bedtime!, which came out earlier this year and is inspired by his four-year-old daughter. As a parent, Bennett told Fatherly, "I see a lot of things in my daughter that I see in myself, so I'll always just let her be who she is. I think that's the most courteous thing we can do for someone: Allow them to be themselves."
33Jeffrey Glasbrenner
Cool Dad Job: Paralympian, Explorer, Mountain Climber
Cool Dad Vibe: Unstoppable
Cool Dad Bona Fides: When Glasbrenner lost his right leg in a farming accident at age eight, doctors told him that he would never play sports again. Barely a decade later, he made the wheelchair basketball team at the University of Wisconsin-Whitewater. He went on to become a Paralympian and two-time world champion in the sport. And that was before he got into mountain climbing — in 2016, Glasbrenner became the first American amputee to successfully climb Mount Everest, and he's now training to climb the Seven Summits, the tallest peaks on each continent. Despite the risks he faces and his passion, Glasbrenner insists his main focus remains on his wife, Elizabeth, his daughter Grace, and his son Gavin.
32Mark 'Forger' Stucky
Cool Dad Job: Lead Test Pilot, Virgin Galactic
Cool Dad Vibe: Chuck Yaeger's Drinking Buddy
Cool Dad Bona Fides: Mark Stucky goes by "Forger," which is the sort of cool nickname you get when you spend the first half of your career in super-fast jets and the second half piloting spacecraft. Stucky, a former airline pilot, mortgage salesman, Marine, and astronaut also-ran worked for NASA as a test pilot (famously pushing the SR-71 Blackbird past Mach 3) before landing a gig piloting Richard Branson's SpaceShipOne and SpaceShipTwo, rocket-boosted vehicles designed to one-day take passengers into orbit. Stucky isn't bound for Mars, but he seems bound for glory as a modern haver of the right stuff. His job has put him on the road (well, above it), but he has been clear about his intention to get closer to his kids even as he gets further from the ground.
31John Legend
Cool Dad Job: Singer, Activist, Spokesperson, Internet Husband
Cool Dad Vibe: Crooner
Cool Dad Bona Fides: John Legend built a reputation performing on records for artists like Kanye West and Lauryn Hill before releasing his debut solo album in 2004. His songs are piano-driven, passionate, and hugely popular. How good is Legend at what he does? In September, he won an Emmy and became the youngest and first African-American man to EGOT. When he's not winning all the awards, Legend is publicly advocating for teachers or at home getting trolled by his wife Chrissy Teigen and playing with his daughter Luna Simone or his son Miles Theodore.
30Spike Gjerde
Cool Dad Job: Chef, Restaurateur
Cool Dad Vibe: Hometown Hero
Cool Dad Bona Fides: Baltimore's favorite foodie son, Gjerde runs six different restaurants in Charm City and employs over 300 people. Along with his wife and business partner Amy, Gjerde started Woodberry Kitchen in 2007. His empire has only grown from there, but Gjerde has remained very particular about using local ingredients in order to support local agricultural producers. After some resistance, Gjerde finally opened his first non-Baltimore restaurant in Washington D.C. last year, but his focus remains on cooking for and creating jobs in his home town. He lives there with Amy and their two teenaged kids, Finn and Katie.
29Antonio Brown
Cool Dad Job: Wide Receiver, Pittsburgh Steelers
Cool Dad Vibe: Winner
Cool Dad Bona Fides: Not only is Antonio Brown the number one receiver in the NFL ⏤ with at least 100 receptions, 1,200 yards, and 8 touchdowns in each of the last five seasons ⏤ but there's a strong case to be made that he's the number one player in the league (or at least should be the number one overall pick in your fantasy football draft this year). The practically uncoverable 30-year-old wideout who played at Central Michigan is a PPR machine ⏤ and it's no surprise he's also on the cover of Madden 19 this season (so… maybe you don't draft him that high?). Off the field, Brown's got five kids under the age of 9, an affinity for the letter "A" ⏤ their names are Ali, Apollo, Antanyiah, Autonomy, and Antonio Jr. ⏤ and gives a ton to charity, recently dropping a $100,000 check on a local children's hospital. He's also pretty smooth dancer it turns out, making it all the way to the semifinals of Dancing with the Stars.
28Eric Garcetti
Cool Dad Job: Mayor of Los Angeles
Cool Dad Vibe: Knight of Camelot
Cool Dad Bona Fides: Garcetti is the youngest mayor in the history of Los Angeles and he politics with unusual swagger. Garcetti, who comes from a Mexican and Jewish background, spent eight years in the Navy after making his way through the Navy and becoming an accomplished jazz pianist and Rhodes Scholar. It's a lot and it's easy to see why voters elected him to LA City Council in 2001. Now, with innovations like monthly constituent office hours and a "Constituent Bill of Rights," Garcetti is consolidating power. He won a landslide reelection in 2017 and seems poised to become a national figure. If he eventually runs for president, as many expect, he'll bring his wife Amy and their adopted daughter Maya Juanita on the campaign trail.
27Oliver Jeffers
Cool Dad Job: Artist and Illustrator
Cool Dad Vibe: Kindergarten Crush
Cool Dad Bona Fides: Ten million kids can't be wrong. That's how many picture books Oliver Jeffers has sold and seemingly how many awards he has won for his work. He's also had his art exhibited around the world and co-directed a music video and helped art direct for U2. Still, Jeffers is best known for his books. His most recent effort, Here We Are, was written in the first two months of his son's life. Here We Are is billed as a guide to living on planet earth, an ambitious subject for any author, but one that Jeffers strips down in his vivid illustrations and sparse text. It's hard to think of a better gift that a dad could give his son, and we're thankful that Jeffers chose to share it with all of us.
26Alexi Lalas
Cool Dad Job: Announcer, Defender
Cool Dad Vibe: Smart Jock
Cool Dad Bona Fides: Soccer defenders rarely get to be recognizable all-stars. They lack the moves, the attitude, the shirt-shedding victory slides. But Alexi Lalas, the face (beard) of the 1994 World Cup U.S. soccer team, defied the odds and, now a National Soccer Hall-of-Famer and commentator, he is the most important voice in American soccer. Working for ESPN and Fox Sports, Lalas has covered the last four World Cups and, especially, the American teams' many missteps leading up to the big games. Despite being a former player and coach (for the San Jose Earthquakes, New York Red Bulls, and Los Angeles Galaxy), he is not afraid to hold back his criticism of the U.S. Team. Take this doozy of a rant: "You are a soccer generation that has been given everything. You are a soccer generation who is on the verge of squandering everything. So, now it's time to pay it back. Make us believe again!" Lalas isn't the only guy trying to browbeat American soccer players into greatness, but he's the fun one.
25Jordan Peele
Cool Dad Job: Actor, Director, Producer
Cool Dad Vibe: Pop Culture Alchemist
Cool Dad Bona Fides: Jordan Peele equates having a kid with being in a horror movie. "Kids are creepy," Peele said right before his son, Beaumont, was born. "What happens if I wake up in the middle of the night, look over and my child is standing in the doorway? Do I run? Which direction do I run? Towards it? Away from it?" Peele's mind is sort of twisted like that. Not only is he the director of the already-classic horror-comedy Get Out, he's the new Rod Serling in the soon-to-be-rebooted Twilight Zone series. That show will no doubt be as entertaining as watching Peele draw on his experiences at home to make weird entertainment. With 'Get Out', Peele stoked a national discussion about race and what it's like to be black in America. Get ready for a different take on fatherhood. We look forward to it.
24Sean MacPherson
Cool Dad Job: Hotelier
Cool Dad Vibe: Laidback Tastemaker
Cool Dad Bona Fides: Both his parents were surfers and MacPherson spent his childhood traveling around the world with his mom. He still brings something beachy to his work as a hotelier and restaurateur as anyone who has ever visited the Waverly Inn, the Bowery, the Ludlow, or the Chelsea Hotel well knows. MacPherson lives in the West Village, but spends a lot of his time at his surf shack-inspired home in Montauk, keeping family traditions alive. With his wife, who co-founded the high society site Guest of a Guest, MacPherson forms half of what might be New York City's most dashing power couple. But it's actually a power quad. The MacPhersons have two sons, Maxwell and Dashiell, who accompany them on their travels around the city and around the world.
23Randall Park
Cool Dad Job: Actor
Cool Dad Vibe: Pretending Not To Be Cool
Cool Dad Bona Fides: Even if you've never seen Fresh Off the Boat, odds are you've seen Randall Park before. Before starring in the ABC series, he spent years stealing scenes on television and in movies. Fresh is a huge hit in large part because of Park's aggressive approach to inhabiting his character and willingness to draw on his own personal experiences. Park, who grew up in the Korean American community of Western Los Angeles and received degrees in English and Asian American Studies from UCLA, where he co-founded an Asian American theater company, pokes fun at his people without ever belittling anyone. Park is married to actress Jae Suh Park and lives in the San Fernando Valley with her and their daughter Ruby. And while we're sure he's proud of his work on Fresh Off the Boat, our best guess for his favorite project is Baby Mentalist, a comedy web series written by Park that stars Ruby as a crime-fighting baby. Can't recommend it enough.
22Sterling K. Brown
Cool Dad Job: Actor, Producer, and Singer
Cool Dad Vibe: Effortless Charm
Cool Dad Bona Fides: Like his first name, Sterling K. Brown's charm is classic. He can check off being tall and dark, plus he has handsomeness in spades. And the man knows how to tug at heartstrings, as evidenced by his starring role in the I'm-not-crying-you're-crying show of the decade This Is Us. Brown also brought his talent to the Thurgood Marshall biopic Marshall and the Marvel movie masterpiece Black Panther, in which he played the father of one of this year's most memorable villains, Erik Killmonger. In real life, Sterling isn't far raising super assassins. He's happily married to Ryan Michelle Bathe and the two are raising two bright sons, 6-year-old Andrew and 2-year-old Amare.
21The Kid Mero
Cool Dad Job: Comedian, Host
Cool Dad Vibe: Authentic
Cool Dad Bona Fides: The Kid Mero has made a career — a very successful one of late — being himself. As one half of the comedy duo Desus and Mero, with his buddy Desus Nice, he's embraced his Dominican-by-way-of-the-Bronx heritage without being a stereotype or, let's be real, predictable on any level. After starting his career in internet wilds while working as a school aide in a Bronx public school, Mero was offered a Viceland show that became a hit. Now he and Desus are heading to Showtime, where they'll be the two non-white guys hosting a late night show. Mero is sharing his success with his wife Heather Martinez, who is a teacher, his three sons, and his daughter. Mero has left the Bronx for the suburbs, but he goes back all the time.
20Anderson .Paak
Cool Dad Job: Producer, Singer, Rapper
Cool Dad Vibe: Quincy Jones Part 2
Cool Dad Bona Fides: When the pot farm where he was working closed down, Anderson.Paak, the son of a Korean-American immigrant mother and an abusive father, found himself homeless. He had a wife and an infant son and just enough experience in the music business to think that he might be able to carve out a career, which he jumpstarted by becoming a mainstay of LA's underground scene. Paak hit the road as a professional drummer and eventually made a name for himself — at the time, he went by Breezy Lovejoy — gaining notoriety for employing a diverse amalgamation of sounds and influences that match the diversity of his life experiences. Now, he's an in-demand producer, Dr. Dre is his mentor, he collaborates with Spike Jonze, and he occasionally performs with his 5-year-old son, Soul, who shows off his beatboxing skills on his father's Instagram.
19Hasan Minhaj
Cool Dad Job: Comedian and Actor
Cool Dad Vibe: Straight Shooter
Cool Dad Bona Fides: Hasan Minhaj is one of the biggest names in American comedy, thanks to his time as a correspondent on The Daily Show and, of course, hosting the White House Correspondents' Dinner in 2017 where he roasted politicians and power brokers with hilarious ease. But his longest-running fans love him for expertly articulating the experience of a first generation Indian-American Muslim and helping to bridge political and cultural gaps between anyone with empathy and a sense of humor. A lot of this involves jokes about immigrant parents that are relatable to, well, everyone with parents. Case and point: "We know nothing about our parents," Minhaj notes in one stand-up special. "And they know nothing about us. Like, I'll go, 'Dad, what's your favorite color?' He'll say, 'Stanford!'" Minhaj and his wife Beena Patel reside in New York City and celebrated the birth of their first child, a baby girl, in April of 2018. There's little doubt he too will misunderstand her — but she'll be well aware that's just material to roast him on at all their family dinners.
18Francis Lam
Cool Dad Job: Writer; Host, "The Splendid Table"
Cool Dad Vibe: Knows where the best version of every food is
Cool Dad Bona Fides: Francis Lam was born to immigrant parents who worked 12-hour days at a garment factory they started in Chinatown. Lam grew up commuting between the very American world of his school and the traditional Cantonese-speaking world of his family. He disappointed his parents by not choosing business or medical school, instead enrolling at the Culinary Institute of America to follow his passion for food. After some of the lengthy food-focused emails he wrote his friends ended up in the inbox of a Financial Times editor, his began his career as a food writer. Today, Lam hosts the influential "The Splendid Table" for American Public Media. He is also the editor-at-large at cookbook publisher Clarkson Potter. He's a renaissance man in the food industry, using his power to promote the people and ideas he finds exciting. Then he goes home and cooks for his wife Christine and his daughter. "There is no greater joy than watching her eat," says Lam of his little girl.
17Kofi Kingston
Cool Dad Job: WWE Wrestler
Cool Dad Vibe: Big Dad Energy
Cool Dad Bona Fides: Even for a WWE star, Kofi Sarkodie-Mensah has noticeable swagger. When he enters the ring, he beams with exuberance, leaping, flexing, flipping, and flashing his signature smile. Better known in the ring as Kofi Kingston, the Ghana-born wrestler has put his energy and raw athleticism into winning a total of 14 championships since making his television debut on ECW in 2007. The best part? Kofi is a fan favorite with adults who still keeps it PG for the kids. Part of this is no doubt because he's a dad who wants to set an example for his two young sons, Khi and Orion, born in 2013 and 2016, who he's raising with his wife Chi Chi in Tampa, Florida. Kingston has always played the good guy on the stage. We're not sure he knows any other way.
16Chris Paul
Cool Dad Job: NBA Player, Labor Leader
Cool Dad Vibe: Hometown Hero
Cool Dad Bona Fides: Chris Paul does what we'd do if we were, you know, an insanely talented point guard for the Houston Rockets with a set of diverse interests. He played college ball for his hometown Wake Forest University, leaving after a couple of years to become Rookie of the Year and a nine-time All-Star in the NBA. He's one of the most recognizable players in the game and perhaps the most well-respected by his colleagues. They elected him president of the Players' Union in 2013. But despite his success on the court and leadership off the court, Paul remains a super down-to-earth dude. Case in point: He loves bowling and has competed in the Professional Bowlers Association — he actually owns a franchise in the league. He's also a part-owner of a minor baseball team in his hometown, the Winston-Salem Dash. He's married to his high school sweetheart Jada, with whom he has a son, Chris II — because Jr. lacks some swag — and a daughter, Camryn.
15Neil Patrick Harris
Cool Dad Job: Actor, Producer and Singer
Cool Dad Vibe: Funny But Nice
Cool Dad Bona Fides: Harris's career was launched when he portrayed the world's smartest kid in Doogie Howser, MD. Later, he became the world's smarmiest bachelor in How I Met Your Mother. Now Neil Patrick Harris is the world's worst caretaker, Count Olaf, in the Netflix original show A Series of Unfortunate Events. But if playing Lemony Snicket's beloved, terrible Olaf wasn't cool enough, Harris is also a doting dad, with husband David Burtka, to their twins Gideon and Harper. How doting is he? Consider the fact that ever since 2011 he and Burtka have dressed the family in spot-on group Halloween costumes that can't be beat. From The Wizard of Oz to Star Wars, there's nothing like having a dad that will make your dress-up fantasies come true.
14Benny Harlem
Cool Dad Job: Model
Cool Dad Vibe: Proud and Uncompromising
Cool Dad Bona Fides: It's tempting to think of Benny Harlem as just a dude with wild hair, and that's probably because he holds the Guinness World Record for highest top fade. But there's more to his record-breaking mane than the spectacle. Harlem is a hair activist, and his rallying cry is to "walk in your natural design." As a dad, that means showing his daughter that her kinky ethnic hair is something to be treasured. He's made his message abundantly clear through the jaw-dropping father-daughter photographs posted regularly on his Instagram page. The photos not only depict a strong black man being a doting father, they show a man who is comfortable in his skin. And in his hair.
13Dwyane Wade
Cool Dad Job: NBA Player
Cool Dad Vibe: Role Model
Cool Dad Bona Fides: Born and raised in Chicago, Dwyane Wade is most beloved in Miami, where he's the Heat's all-time leader in points, games, assists, steals, shots made, and shots taken. The three NBA championships he won in Miami don't hurt either. And it's not just basketball that Wade excels at. He's good at life and well known for his kindness. When he heard the guy who stopped a shooting at a Waffle House was a huge fan, he flew to Los Angeles and surprised him on Ellen. When he heard that a library in Robbins, Illinois, was shutting down he wrote a check to keep it going. When he heard about a woman whose house burned down in 2008, he bought her a new one. When he heard that one of the children murdered at Stoneman Douglas High School was a fan, he showed up. Because that's what D-Wade does. He shows up. At home, that means hanging with his wife Gabrielle Union, his three sons from previous relationships and the nephew he's raising.
12Rob Delaney
Cool Dad Job: Actor, Comedian, Writer
Cool Dad Vibe: Real, Laid back and Hilarious
Cool Dad Bona Fides: Rob Delaney lost his 2-year-old son, Henry, to cancer at the beginning of 2018. In a revealing essay, he wrote "our family's story has a different ending than I'd hoped for," But his family's story isn't over. While processing the grief, Delaney managed to be uproariously hilarious in the Amazon Prime series Catastrophe and popped up in an equally great cameo in Deadpool 2. Now, he and his wife are expecting their fourth child. Delaney is unstoppable, and despite living through a real catastrophe, he wears his manhood like his mustache: effortlessly.
11Adam McKay
Cool Dad Job: Film Director, Writer
Cool Dad Vibe: Funny as Hell
Cool Dad Bona Fides: Adam McKay is responsible for early 2000s hits like Anchorman and Talladega Nights, but he also created the website Funny or Die with Will Ferrell in 2007. And that's where McKay's cool dad cred kicks off. McKay is legendary for casting his baby daughter Pearl opposite Ferrell as a drunken foul mouthed landlord in the Funny or Die short, "The Landlord." But giving his daughter an early career in comedy with a legend like Ferrell isn't the only way McKay makes the cool dad list. Because he's also figured out how to make movies for people who have graduated from college and care about their future with films like The Big Short. It's rare to find a film director who can code-switch between uproarious and measured, but McKay is that guy. His wife, Shira Piven, is a movie director, too, which makes life for their two kids interesting as hell.
10Michael Peña
Cool Dad Job: Actor
Cool Dad Vibe: Leading Man
Cool Dad Bona Fides: Michael Peña is probably best known as Paul Rudd's charming best friend, the fast-talking ex-con Luis in both Ant-Man and Ant-Man and the Wasp. In reality, Peña is just as warm and funny, but ten times more laid back. He's quick with a joke, but he's also the kind of guy who knows when to just listen to everyone around him. As a father, Peña tries to take his wife and grade-school-aged son with him wherever he goes whether it's filming for Netflix's Narcos or getting tiny with Paul Rudd. That connection to family is a necessity deeply rooted in Pena's parenting philosophy. He understands parents know when they didn't show up as strongly as the could have, but he also believes parents need to give themselves a break. After all, the job of a parent is way more difficult and important than helping superheroes.
9Alexis Ohanian
Cool Dad Job: Founder of Reddit, Tennis Cheerleader
Cool Dad Vibe: Unexpectedly Good Dude
Cool Dad Bona Fides: Ohanian's claim to fame used to be that he co-founded Reddit in 2005 with his University of Virginia roommates. People still know him for that breakthrough, which continues to overshadow his myriad subsequent entrepreneurial successes and his early stage venture capital firm. Still, the 35-year-old Brooklyn-born entrepreneur has achieved more notoriety of late as Mr. Serena Williams. The ultimate modern power couple — most dominant man on the internet meets most dominant athlete on Earth — welcomed a daughter, Alexis Olympia Ohanian Jr., in 2017.
8Shea Serrano
Cool Dad Job: Writer, Twitter God
Cool Dad Vibe: Zeitgeist Incarnate
Cool Dad Bona Fides: When President Obama shared a list of the best books he read in 2017, he included Shea Serrano's Basketball (And Other Things), an illustrated book that gets deep on some of the most controversial moments in the sport (i.e., "How many years during his career was Kobe Bryant actually the best player in the league?"). What's most surprising about this presidential nod — not to mention it hitting the New York Times Bestseller list and drumming up a host of glowing reviews — is that Serrano set out to do what he always has done, mixing snark, wit, and shade with numbers and full-proof arguments. Serrano is a prolific content creator, with four published books to his name, a column on The Ringer, and a Twitter handle that speaks to an army of dedicated followers. In everything he does, he makes earnestness cool, no small feat in a day where cynicism reigns. Serrano brings this home to parenting too. A father of three, you can see him both publicly roast and brag about his kids in a funny and loving way that few dads could pull off. We're pretty sure they don't mind.
7Jason Isbell
Cool Dad Job: Musician
Cool Dad Vibe: Country Boy
Cool Dad Bona Fides: When Jason Isbell goes home, the population of Green Hill, Alabama skyrockets from 977 to 978. The accomplished singer-songwriter was born just east of Muscle Shoals to teenage parents. His life was a country song from the beginning: He grew up poor, finding his voice and then losing it down a bottle. After rising to moderate fame as the lead singer of the Drive-By Truckers, Isbell struggled to make it on his own. When he did, he exploded. Today, Isbell is everyone and his legend growing every time he gives an interview in which he refuses to be bullied into the country music singer box. He's sensitive. He's smart. He's a damn fine lyricist and a loving father to his daughter Mercy Rose. He's proved himself to everyone — though one gets the sense he's not quite done proving himself to himself.
6Ashton Kutcher
Cool Dad Job: Actor, Activist, Ubiquitous Media Guy
Cool Dad Vibe: Faux Slacker
Cool Dad Bona Fides: Before 2012, Iowa-born Kutcher was best known as that handsome actor from That '70s Show, Punk'd, and Dude, Where's My Car who occasionally pulled pranks and married Demi Moore. Time has passed. Kutcher is now married to his former co-star Mila Kunis, had a daughter named Wyatt and a son named Dimitri, and made himself into one of the most interesting men in Hollywood. As an activist, Kutcher is a strong anti-human trafficking advocate. His organization Thorn, which he started with Moore, has saved over 6,000 people from sex trafficking and child exploitation. Kutcher has used his media savvy to draw attention to the cause. And never underestimate the man's media savvy. As an investor, Kutcher got in early on Spotify, Airbnb, Nextdoor, Warby Parkey, Gusto, Robinhood, and Uber. APlus, the media company he founded, was purchased by Chicken Soup for the Soul.
5Karamo Brown
Cool Dad Job: Queer Eye Culture Guy, Social Worker
Cool Dad Vibe: Gets It
Cool Dad Bona Fides: As anyone who has caught an episode of Netflix's Queer Eye reboot knows, Brown, a 37-year-old Florida native, exudes a preternatural paternal vibe. He's not here for your bullshit, Ari. But he is here to hold you, Tom, and to find common ground with you, Cory. It should come as no surprise that Brown is, IRL, a wonderful dad too. In 2007, after belatedly finding out that he had a ten-year-old son with a high school girlfriend, Brown adopted both his son Jason, and his son's half-brother, Christian. Now the boys are men. Jason is 21; Christian is 18. And both, according to a recent interview, aver their dad is just as genuine off-screen as he is on it. "My dad is literally the most supportive person I could probably have in my corner," says Jason.
4Donald Glover
Cool Dad Job: Renaissance Man
Cool Dad Vibe: Infinite Threat
Cool Dad Bona Fides: Donald Glover is creative dynamite. After writing for 30 Rock and starring as a nerd-tastic, ex-high school jock in Community, Glover conquered the pop and hip-hop rap charts as Childish Gambino. Not only did his music nab a Grammy, Glover was also awarded an Emmy for the hit show Atlanta, for which he writes, directs and stars. But it's not just mind bending talent and bottomless creative output that makes Glover cool. In the midst of the madness, he keeps his home life sane and out of the press. Glover is pretty low key about his family which is a refreshing change of pace from pop-stars that wear their kids like accessories. Shows how much he loves his partner Michelle and his two sons, one of whom, Legend, might have the best baby name of all time.
3Aaron Huey
Cool Dad Job: National Geographic Photographer
Cool Dad Vibe: Lots of Pockets and Some Scruff
Cool Dad Bona Fides: In 2002, Aaron Huey walked across America with his dog Cosmo. It was the sort of stunt that most men would never be able to top. Not Huey. A photographer by trade, Huey has since shot for National Geographic in the Himalayas, Afghanistan, Sioux Nation and Siberia. He has also trained his son, Hawkeye Huey, who published a book of photo portraits at age six and now boasts over 200,000 Instagram followers. As if that weren't enough, Huey has moonlighted as a very effective activist. He was the man behind the "We The People" art project featured at the Women's March in January 2017. The project raised $1.36 million dollars on Kickstarter in 8 days, a standing record.
2Kelly Slater
Cool Dad Job: Professional Surfer, Entrepreneur
Cool Dad Vibe: Ageless Dude
Cool Dad Bona Fides: When it comes to competitive surfing, there's not all that much debate over the Greatest of All Time: That title safely goes to Kelly Slater, the 11-time World Champion surfer who has racked up 55 tournament wins in his decades-long dominance of the sport. After a long career of being unnervingly near perfection in competition, Slater, now 45, spends a bit more time out of the waves hanging at his landlocked surf ranch in Lemoore, California. There, he splits time between hanging with his 22-year-old daughter, getting bromantic with Chris Hemsworth, coming up with new lines for his sustainable surf company Outerknown, and perfecting his 700-yard-long wave machine (yes, he still surfs daily).
1LeBron James
Cool Dad Job: NBA Player, Activist, Producer
Cool Dad Vibe: GOAT
Cool Dad Bona Fides: Talking about LeBron's basketball prowess is a waste of everyone's time. He's unbelievable. Amazing. Transcendent. All adjectives feel inadequate in the face of his achievements and dominance — except one: smart. LeBron James is such a remarkable physical specimen that it's easy to forget the degree to which his success has been a product of his intelligence. In 2018, Lebron made it a lot harder for his haters to forget that he's got brain game on them. Not only did Lebron make the move to Los Angeles — at least in part to create a better community for his kids, LeBron Jr., 13, Bryce, 11, and Zhuri, 3 — he helped launch the astonishing, breakthrough I Promise School in Akron. The school is also a community center and a lifeline for parents like James, who haven't had his good fortune. And speaking of that fortune, LeBron is building momentum on his way towards what could become a media empire. He's currently producing The Shop, his HBO talkumentary, Best Shot, Madam C.J. Walker, Million Dollar Mile, and, of course, Space Jam 2. That makes him one of Hollywood's hottest producers and he hasn't even taken a shot in a Lakers uniform. The only question left for James is whether or not he'll play pro ball next to his son. Don't bet against him.