10 Great First Movies For Your Kids
Time to introduce your kid to the awesome power of a great movie.
by Jordan Obey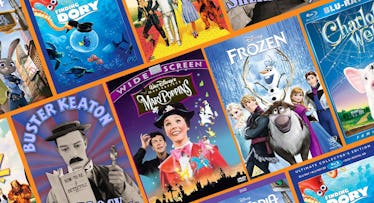 Once you've made the decision to let your kids have screentime (and that's a big decision, complete with a few pervasive myths) it's already time to make another decision: What is the first movie you're going to let them watch? With over a century worth of movies out there, how do you narrow it down to one and where do even you start? And let's say you do finally pick a movie, what if it turns out to be a thousand million times scarier than you remembered?
Here's a quick rundown of ten movies that are all good candidates to be your child's very first cinematic experience. For these selections, three criteria were used: age appropriateness, emotional impact, and overall quality. These movies are exciting without getting too scary but also demonstrate what makes movies awesome in the first place. And best of all, they're not all cartoons.
(Disclaimer: This list is totally subjective. There is no guarantee all these movies will work for your kid. Plus, it must really be stressed that the idea here is that the child watching the movie is probably 3-years-old, or older and speaking in sentences.)
1. Zootopia
Set in a city of anthropomorphized animals, Zootopia is a colorful, computer-animated movie that rallies against prejudice. The movie is light-hearted fun and features Shakira in a cameo as a singing gazelle with millions of fans. There are a few darker moments with animals that get slightly more ferocious, but otherwise, there are no big scares to worry about.
Zootopia is available to rent on Amazon.
2. Finding Nemo / Finding Dory
Both Finding Nemo and Finding Dory are gorgeous. Set in Australia's Great Barrier Reef, the movies are awash in luscious, colorful images of ocean life that are guaranteed to enthrall kids and, maybe, get them interested in marine science. They also have straightforward and simple stories that are still emotionally rewarding. It doesn't take a masterclass in film theory to understand the sadness of Nemo's mom disappearing or Dory's separation from her family, and it definitely doesn't take a masterclass to get caught up in the adventures that continue from there. Finally, and this is important, the movies are funny. Reformed sharks, shifty cephalopods, and Dory's forgetfulness mean both movies are bathed in hilarity.
Finding Dory is streaming on Netflix right now.
3.The Wizard of Oz
This movie is technicolored dynamite. The Wizard of Oz has characters and a musical score that has remained relevant for almost a century and is a fine first movie for a kid to watch. The plot has so many twists and turns as it moves from a farm in Kansas to a world terrorized by a jealous witch with sky-bound apes that keeping a child's attention won't be much an issue. (Still, the witch is very scary.) Warning, your children may sing "Follow the Yellow Brick Road" from now on.
The Wizard of Oz is streaming on Amazon Prime right now.
4.Frozen
The upside of this being the first movie a child watches is that they'll get to listen to "Let it Go" and laugh at Olaf the snowman's jokes. The downside is that they might want to do that over and over again. Frozen is a solid choice for toddlers, is beautifully rendered, and puts a refreshing spin on the tropes of Disney princesses by focusing on the relationship between sisters Anna and Elsa.
Frozen is available for rent on Amazon here.
5.Sherlock Jr.
This silent movie was produced in 1924 and stars Buster Keaton. It's also, surprisingly, perfect for kids. If asked to think of a kid movie, it's unlikely your mind would go straight to a black and white silent film from the 1920s but hear us out. Sherlock Jr. is a slapstick comedy that mostly takes place in the dreams of a hapless projectionist who fantasizes about being a detective. What follows is a surreal 45 minutes of pratfalls, poison attempts, trap doors, and exploding pool balls. The runtime is short, the movie is fun, and even with the pratfalls and exploding pool balls, it's less violent than some movies that were specifically tailored for kids.
Sherlock Jr. is in the public domain, so you can watch the whole thing on YouTube for free.
6. Charlotte's Web
Death is not an easy topic, but the animated adaptation of the children's book by E.B. White handles it with touching maturity. Centered around the friendship between a small pig and a wise spider, Charlotte's Web is a smart movie that treats life and death as part of the same natural cycle. Prepare for kids to feel a whole lot of things while watching this heartwarming movie.
Charlotte's Web is streaming on Amazon Prime right now.
7. Mary Poppins
Julie Andrews plays the titular role in a movie filled with chimney sweeps, spoonfuls of sugar, and flying umbrellas. Mary Poppins, which was Andrews' film debut, won 13 academy awards and, like the Wizard of Oz, is an eye-pleasing blast of color about a magical nanny that changes the lives of a dysfunctional British family. Dick Van Dyke joins in the fun as well as a singing chimney sweep in probably one of the movie's most iconic scenes. Half live-action, half animation, Poppins is a 1964 classic kids are guaranteed to love.
Mary Poppins is available to purchase (not to rent) on Amazon. Mary Poppins Returns, a sequel is out in movie theaters everywhere on December 25, 2018.
8. Singin' in the Rain
In the glitzy world of old Hollywood, Gene Kelly plays a silent film star confronting the advent of the 'talkies' in a movie with elaborate musical numbers and top-notch comedy. The plot's simple, the music is great, and if you're a film buff, watching this movie might get your kid hooked to movie history. The sheer, electrifying joy of Donald O'Connor turning a movie set into his personal playground as he plays the piano and sings "Make 'Em Laugh," is enough to watch this right now. You could probably play that scene over and over again for 90 minutes and call it a day if you want to, but 1952's Singin' in the Rain delivers so, so much more.
Singin' in the Rain is available for rent on Amazon right now.
9. The 7th Voyage of Sinbad
If you're going to introduce your kids to movies, you should show them some exciting movie monsters. Before you show your kids Jurassic Park, let them watch the 7th Voyage of Sinbad, starring visual effects superstar, Ray Harryhausen's epic stop-motion creatures. Okay, the giant stop-motion cyclops and two-headed vulture of the '50s may not be impressive next to today's alien cars that transform into battle-ready warriors, but with a G rating and fun sense of adventure, its an excellent pick to get kids excited about the magic of the movies. Also, don't try to find Sinbad's Voyages 1-6, they don't exist.
The 7th Voyage of Sinbad is available to rent on Amazon right now.
10. My Neighbor Totoro
Totoro is a giant blue cuddle monster! My Neighbor Totoro makes the list for its beautifully rendered animations from Hayao Miyazaki, and the overwhelming warmth of the film's characters. The movie is about two young girls who go to visit their sick mom and discover that the nearby forest is filled with friendly magical creatures. There's no real villain in this movie, a plus depending on your kids' age and sensitivity. Totoro himself may look a little scary to younger kids, but the whole message of the movie is the lesson that he might look like a monster, but isn't at all.
My Neighbor Totoro is only available to purchase as a Blu-ray or DVD.
This article was originally published on