Check out Fatherly's complete 2016 summer vacation destination guide here.
Choosing a beach destination for the peak of summer is weirdly tough — even if you wanted to go to Cape Cod, it's booked, so … Florida? In the summer? Are you high? And Southern California is great, but if you think you can go there with kids and escape the tractor beam pull of Disneyland or SeaWorld or Universal Studios or LEGOLAND, you're … also high. Which is why Santa Barbara is such a gem. It has awesome beaches, afternoon-devouring activities like surfing and horseback riding, and a walkable town center with tons of great restaurants. While your buddies are standing in line for Space Mountain, you and the missus will be drinking crisp local wines on the deck while your kids are passed out cold for the night. And you'll have a better tan.
All hotel and restaurant recommendations come care of the family travel experts at Passported; check out their full Santa Barbara guide here.
Tips From A Local Dad
If you think the land of killer wine tours looks like a great place to raise kids (and drink lots of wine), well, you're very astute. Resident dad and physician Michael Trambert certainly wouldn't change it. Here are his picks for the ideal Santa Barbara experience.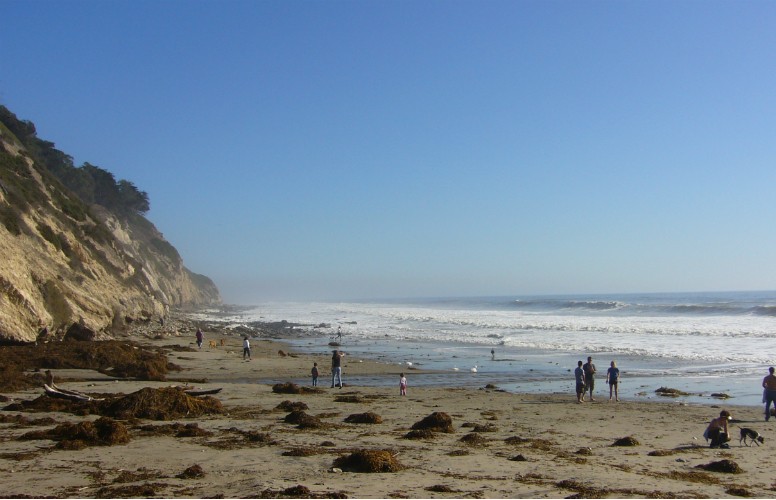 Hendry's BeachFlickr / Punkrider
Play Volleyball On The Beach: "My daughter plays in them and it's just incredible. There are great courts and programs all on the beach. It's the classic California feel.."
Walk The Bluffs: "There is beautiful beach walking around Leadbetter and heading up behind Mesa. And there's tide pooling. You can also walk up by Hendry's Beach; there are beautiful bluffs below Hope Ranch. Those are all just great places to walk and explore with your kids."
Hike To Natural Hot Springs: "The hiking here is really fantastic, and when we have more rain and water, there are waterfalls you can hike to and swim in. And there are natural hot springs you can get to on Hot Springs Trail."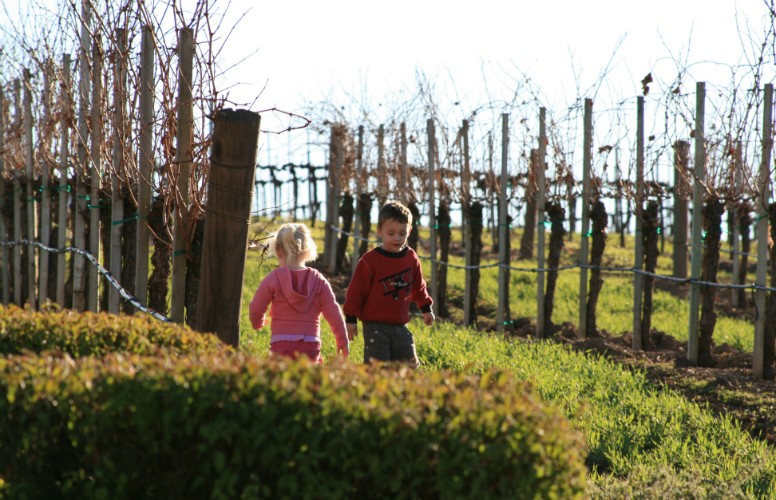 Flickr / Yaniv
Bike Through The Vineyards: "Mountain biking is really fun, but this is more for older kids because the trails are single-lane and can be a bit more challenging. An easier option is biking through the vineyards. Parents can do some wine-tasting and kids can play outside."
Eat Shellfish On The Dock: "I hate to even give this away because it's such a great spot — Santa Barbara Shellfish is a great place to go with kids. It's very rustic, and it's right out there on the wharf so the kids can check out the boats. And they have aquariums with all kinds of shellfish. Also, Full Of Life Flatbread in Los Alamos is a really cool place with great pizza and like 50 wines by the glass for the parents."
Hotels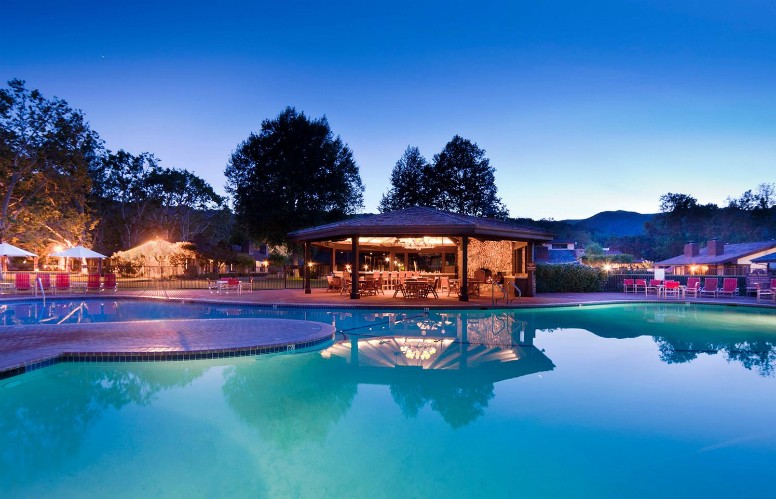 Basics
Alisal welcomed its first paying guests in 1946, but the ranch dates back to the early 1800s and has served as a cattle ranch, a thoroughbred horse farm, and a retreat for silver screen stars such as Clark Gable and Doris Day.
The 73 rooms are scattered in small cabins throughout the property and range from cozy to capable of fitting a family of 5, with Old West decor, working fireplaces, and private patios.
Prices include breakfast and dinner, but activities are additional.
Bedtime
Studios are the least expensive option and can fit a family of 3.
For larger families, junior one-bedroom suites have a separate living room with 2 twin-sized day beds and a king-bedded master bedroom.
Cribs can be added to any room free of charge, and children 2 and under are also complimentary.
Bests
If you're torn between a dude ranch and a seaside vacation this is your solution. Go riding in the morning and drive to the beach in the afternoon.
Space comes at a premium in Santa Barbara, but Alisal has 10,000 acres, 50 miles of riding trails, a massive spring-fed lake, and 2 18-hole golf courses. And prices are reasonable.
Children as young as age 4 can take riding lessons in the arena.
Buts
Dinner has a dress code, so bring a jacket and leave the jeans for riding, not dining.
Rooms lack televisions, telephones and room service, but there is Wi-Fi to power your nighttime Netflix binge after the kids are asleep.
Alisal is often lumped in with Santa Barbara resort options due to its location in the Santa Ynez Valley, but remember that you're 30 minutes from town; this isn't for people who want to eat dinners out at downtown restaurants.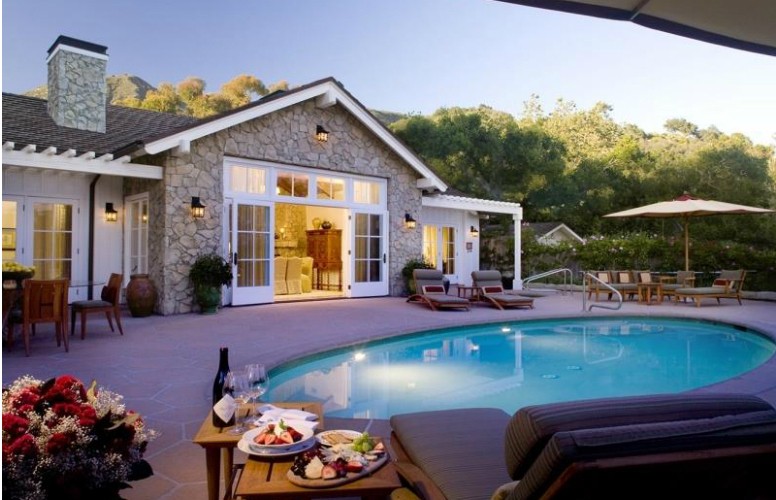 Basics
This celeb-friendly retreat has catered to Hollywood royalty since it hosted the wedding of Vivian Leigh and Laurence Olivier in the 1940s and JFK's honeymoon in the 1950s. In the modern era Gwyneth Paltrow and Chris Martin eloped here, and model Lily Aldridge married her rock-star husband in the garden.
Despite the wedding-appropriate setting, the ranch is equally family-friendly, with a swimming pool heated year round (this will save you when your kid wants to swim, and Cali weather doesn't cooperate), children's menus in the renowned restaurants and acres of shady, landscaped gardens to explore.
The 41 cottages and suites spread throughout the property share the resort's Old Hollywood vibe, with 4-poster beds, stone fireplaces, oak-paneled floors, and claw-foot tubs.
Bedtime
Cribs (and they have the real ones, not pack n' plays) can be added to any room complimentary, but it's a tight fit in the entry-level rooms.
Garden suites have separate living rooms and bedrooms, and some will have sofa beds (they can add a rollaway as well if kids don't like to share).
For more space, upgrade to a Wildflower Cottage, which also fits a family of 4 but in a bit more square footage.
Bests
Baby monitors, baby bathtubs, baby proofing and Beanie Baby turn-down service (Ty Warner is the owner of San Ysidro) make checking in easy on newbie parents.
Can't travel without your canine? San Ysidro is pet-friendly as well.
Despite the star-studded clientele, San Ysidro is low-key and friendly, the kind of place people come to get away from the spotlight, not parade in front of it. If you're anti-scene, you'll dig it here.
Buts
Although the beach isn't far away, this has a countryside setting, not a coastal one. it's not a good choice for someone who wants to wake up to the surf.
The resort's Stonehouse restaurant is a destination for serious diners, meaning guests can get a date-night sitter and a romantic dinner out without straying far from the kids.
Families with multiple children will need the pricer suites, so San Ysidro isn't great if traveling on a budget.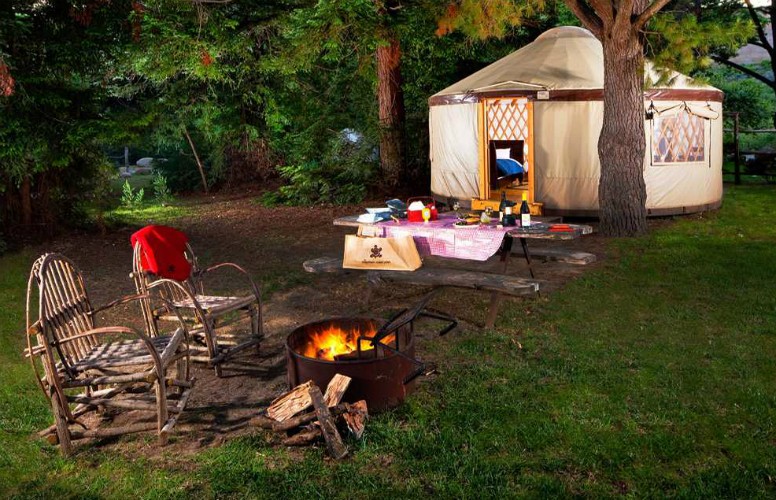 Basics
El Capitan sits on 300 acres of coastline north of Santa Barbara and offers families a chance to get close to nature without sacrificing creature comforts.
El Capitan Canyon is a campsite but also a resort, and amenities include a market to stock up on supplies, spa services, and even a swimming pool.
From off-roading Jeep tours, to whale watching, to biking, to rock climbing, and horseback riding, there's a huge range of activities to keep everyone busy all day.
Bedtime
Safari tents sit on a raised wooden platform and have either a queen bed or 2 doubles; larger families will need 2 tents.
The Creekside cabins are best for smaller families as most can only accommodate 2 adults and one child.
For larger families, the Coral Lofts are a great pick with king bedrooms and 3 twin mattress in a sleeping loft.
Bests
Glamping in Santa Barbara — it's a thing! El Capitan's cabins and safari tents have electricity, plush furnishings, even a small heater if a brisk Pacific breeze drops the evening temps.
Get 2 trips in one, pairing a few nights here with a stay at one of the more traditional resorts.
Nights are quiet but far from boring thanks to a summer music series, evening cook-outs and starry-night storytelling.
Buts
El Capitan Canyon is 20 miles north of Santa Barbara, so this isn't the right place for a family that wants nightlife and lots of restaurant options.
Only the cabins have the bathroom facilities attached; for safari tents, the restroom facilities are nearby but not in the tent itself.
While the camps may feel in the middle of nowhere, you won't be by yourself; there are over 100 cabins and 26 tents, so be prepared to share your slice of paradise with others.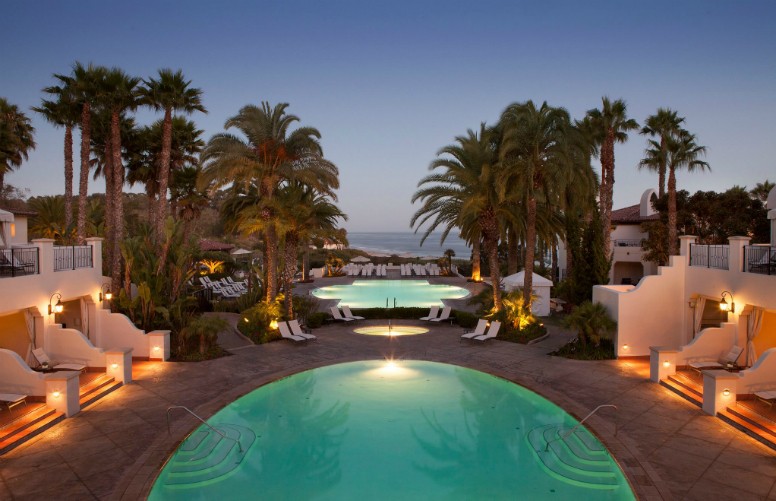 Basics
Set on 78 acres of prime Santa Barbara coastline, the Bacara scores bragging rights for some of the area's most extensive amenities, from 3 golf courses to a 2-mile private beach plus a 42,000-square-foot spa, 3 swimming pools, and 4 tennis courts.
The 358 rooms and suites have an updated traditional look, with upholstered beds, oriental rugs, and plantation shutters, plus spacious marble bathrooms from the entry-level options to the Signature suites.
Bacara takes food seriously and there are frequent culinary events and weekend specials; plan at least a few meals "on campus."
Bedtime
Partial ocean view rooms have double queen options that sleep a family of 4.
To get separate sleeping space for mom and dad, book an executive suite with a sleeper sofa or request connecting rooms.
A crib can be added to any room.
Every room, from the least expensive to the most, has a private patio or balcony, meaning mom and dad can sip a glass of wine al fresco after kids have conked out for the night.
Don't like to drive? No sweat. With so many activities at the resort, there's no need to leave.
The Monarch Kids Club accepts children ages 5 to 12 so parents can dig some downtime.
Bests
Every room, from the least expensive to the most, has a private patio or balcony, meaning mom and dad can sip a glass of wine al fresco after kids have conked out for the night.
Don't like to drive? No sweat. With so many activities at the resort, there's no need to leave.
The Monarch Kids Club accepts children ages 5 to 12 so parents can dig some downtime.
Buts
Bacara is one of the larger resorts, and it won't be a fit for those who dig the boutique experience.
Bacara often hosts corporate events and weddings, so check before you book if you don't like the idea of sharing with a big group.
Rollaway beds cost $50 per night.
Restaurants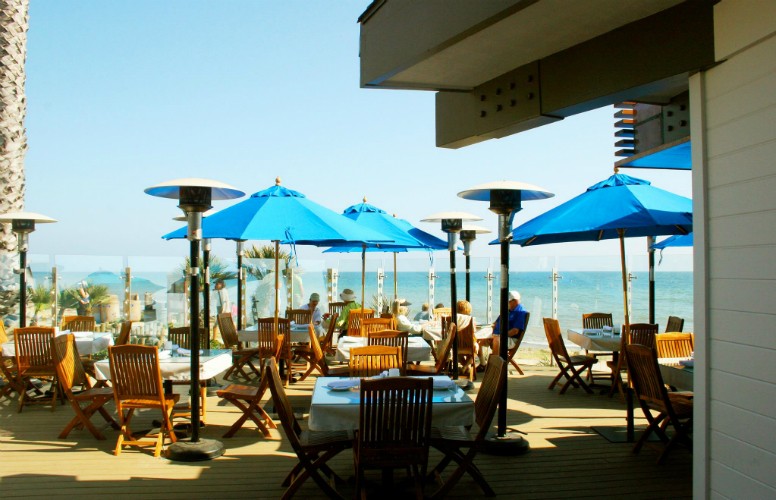 Boathouse at Hendry's Beach
Breakfast
Jeannine's Restaurant & Bakery
A breakfast institution; order at the counter and try to grab a table outside to enjoy freshly baked scones and perfect eggs Benedict.
Dinner
Arnoldi's Cafe
Old-school Italian fare with a patio for outdoor dining and a bocce court to entertain kids.
Beachfront
Boathouse at Hendry's Beach
Right outside of Santa Barbara, grab a table next to waves on Hendry's Beach and enjoy a serious raw bar and Bloody Marys for the adults while the kids run on the beach.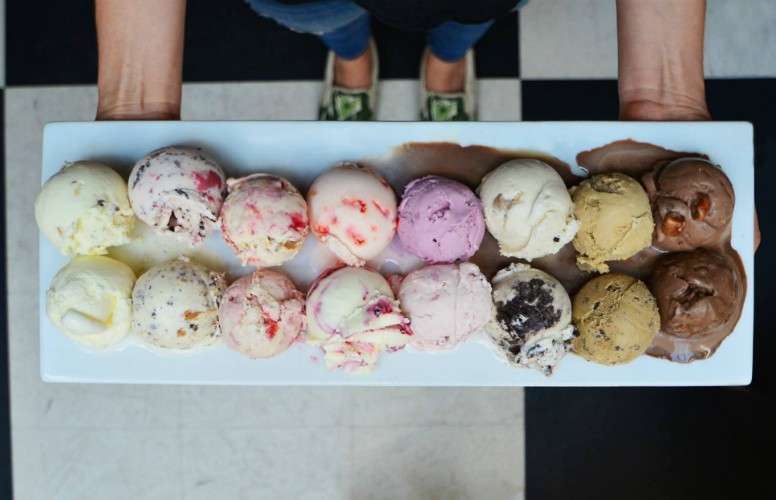 McConnell's Fine Ice Creams
Date Night
Julienne
One of the town's most celebrated eateries, the family-owned Julienne deserves a date night; book a sitter and loosen the belt for one of the farm-to-table tasting menus.
Bargain
On The Alley
No-fuss dining by the Santa Barbara Harbor, On the Alley serves up reasonably priced burgers, salads, tacos and a breakfast menu plus simple grilled cheeses and chicken fingers for picky eaters of the smaller sort.
Dessert
McConnell's Fine Ice Creams
Don't say California doesn't have history; McConnell's has been making their famous ice cream for almost seventy years, and although it's now packaged and sold outside of Santa Barbara, it's still not easy to find. Get an extra scoop to enjoy on State Street.
All hotel and restaurant recommendations come care of the family travel experts at Passported; check out their full Santa Barbara guide here.