When video of a 9-year-old Kazakhstani girl's furious punching skills (and hatred for trees) went viral, it did more than show millions of people what happens when you get hit by a girl — it helped elevate a family business. Besides being the most glaring omission from this list of tiny future Olympians, Evnika Saadvakass is one of 7 kids to an inventor father whose patented, handheld muscle-building device helps young boxers train.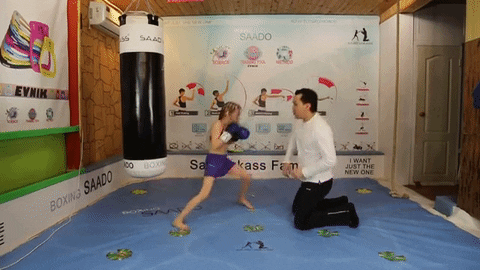 Evnika's training videos are the primary marketing tool for parents Rustam and Anya to sell their Evnik system, which is fortunate, because while the product may be fight-tested, the company's website reads like a parody version of Google translate gone wrong. It's littered with statements like, "Boxers Recommend For All Kinds Of Sports," which makes very little sense, "Over 100 exercises that have no parallels anywhere in the world," which makes even less, and "Note how unusual is the work that the Evnik simulator makes you do," which actually makes total sense because the work it makes you do amounts to swinging a weighted, rubber brass knuckle while looking like you're trying to crack a walnut with your butt cheeks.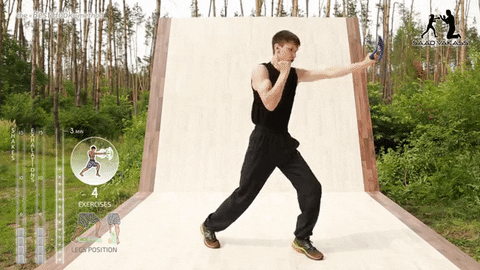 Equally incomprehensible to some of the website's text is the question of whether or not the thing actually works. The "How To Use?" section offers few answers (that question mark doesn't help), but the general idea at least seems sound: use the weight to learn to control momentum and thus increase muscles' speed and agility. Train with the new Evnik Classic-6 long enough and, like young Evnika, you, too, can unlock the sixth level of training load. If you were wondering, it is "quite a considerable level," even for "Masters of Sports."
Botched translations aside, there's no denying this family is admirably pursuing their dreams together. Rustam and Anya have 7 kids, all of whom look to have eaten their Wheaties this morning (and ripped the box to shreds). For her part, Evnika even joined her parents on a trip to Hollywood where she proceeded to scare the crap out of Steve Harvey, who then prematurely pronounced her the new flyweight champion of the world.
At the very least, the Saadvakass family offers people a way to get in shape that requires little equipment or time. "In any, even the most intensive mode of training, you can always find 3 spare minutes to perform high-intensity exercises with Evnik," the website notes. That's not just the single legible line of copy on the entire site, it's really good advice. For that tip, "there is no other analogue in the world."