You want to raise a happy and healthy daughter, which can be challenging because the internet. But while you're worrying about the impact media that trades in all sorts of unhealthy gender expectations — physical and otherwise — could have on your little girl, new data from the Annenberg School at USC and the Harnisch Foundation suggests you should start worrying about what's pouring through your son's eyeholes, too. And no, it's not about shielding him from violent scenes or foul language. It's about his body image.
Based on box office numbers from the top 700 grossing films from 2007 to 2014, the study found that the hypersexualization of men in movies didn't start until after 2008 — interestingly the same year New York Times film critic A.O. Scott said the industry reached "Peak Superhero." By 2013, 9.7 percent of men were sporting "sexualized attire" on screen, up from only 4.6 percent in 2007, and while the study doesn't define "sexualized attire," it's safe to assume that ridiculously unattainable male physiques in very clingy one-piece suits qualifies — it certainly does when the physiques in question are female.
---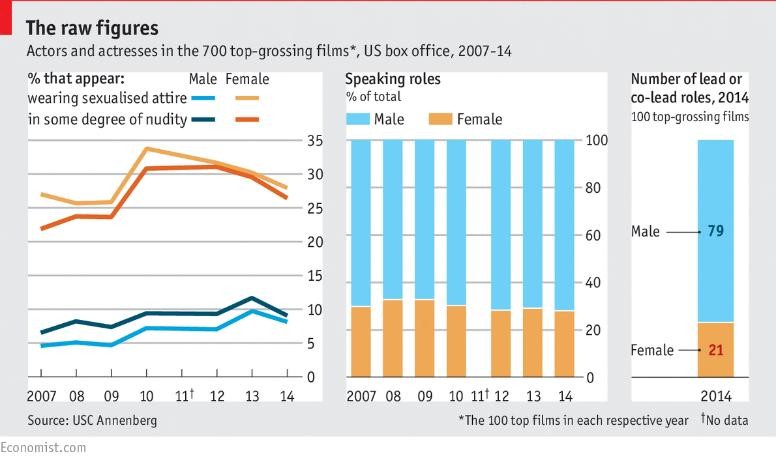 The Economist / USC Annenberg
It's not all Superman's (or Wolverine's or Thor's) fault, though — the amount of male screen stars baring skin for dramatic effect has been on the uptick, too. In 2007, 6.6 percent of guy characters got some level of buck; by 2013 it was up to 11.7 percent. If you're wondering, Magic Mike came out in 2012.
Still, your son isn't watching Magic Mike (he isn't, right?). Those uncomfortable with progressive ideas of gender might scoff at the suggestion that Batman could give a boy an unhealthy body image, but those same people probably grew up with a Batman who looked like this. As for your daughter? The good news is things haven't gotten any worse since 2007, when 27.9 percent of female characters wore sexually suggestive clothing. The bad news? Twenty seven is a lot of percent.