Baseball season is officially here which means peanuts, cracker jacks, and, of course, fathers using dad reflexes to make amazing catches at games while holding kids. The 2018 season's first dad-grab occurred Sunday as Cleveland and Seattle finished out their seasoning-opening three-game series.  The lucky Mariners fan managed to haul in a foul ball despite having one of his arms occupied by his infant daughter.
The catch occurred in the second inning when Mariners third baseman Kyle Seager lined a foul ball into the left-field stands. The ball ended up within reach of the father who fortunately was wearing a glove, so he was able to make the catch while keeping his daughter secure in his other arm. After he made the catch, everyone in his section cheered his rare feat of fan-athleticism in the stands.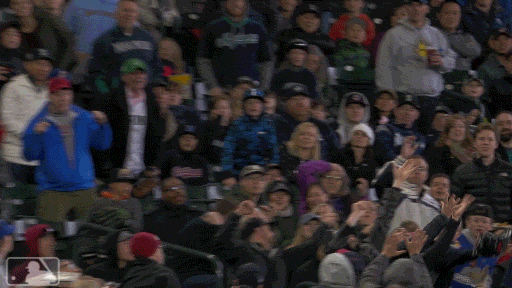 While the dad is rightfully getting most of the attention for his impressive catch, the girl in his arms is a pretty important part of the highlight too. She remains generally unimpressed by all of the chaos happening around her and barely reacts to the catch as it's happening. Even when the TV cameras capture footage of her dad holding the foul ball he caught, the little girl placidly stares into the camera with a deadpan expression that seems to say, "I don't really get what is happening right now but whatever it is, I don't think I care for it."
Maybe the man's daughter felt overwhelmed by all of the attention (or is more of an NBA fan), but hopefully, as she gets older, she can look back on this clip and appreciate the moment her old man showed off his dad reflexes while not forgetting about his fatherly duties.