Sesame Street Drops New Videos To Help Autistic Kids Cope With COVID-19
Routine changes and mask-wearing is tough. Sesame Street is here to help.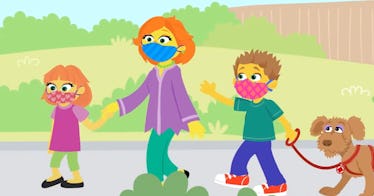 Sesame Street Workshop
On Monday, September 21, the Sesame Workshop dropped yet another baller resource for kids who need to learn how to cope with our changing world, specifically as it relates to COVID-19. This time, in a series of videos and resources featuring Julia, the 4-year-old Sesame Street neighbor who has autism, to help, in particular, kids with autism and their families cope with the ways that COVID-19 has changed our world and will for a long time.
Resources include a fun playdate where Julia and Elmo practice wearing their masks — and they even call Julia's dad, Daniel. There's also a storybook that covers the fact that even though the world has massively changed as a result of COVID-19, some things will never ever be different, namely, that a family will always love one another. And there are articles that kids with autism and their families can read together, or read apart, about how to cope with routine changes, mask-wearing, and the other facets of life that COVID-19 has upended for kids across the world.
One particularly fun animation has Julia and her family go to the park for the first time in a long time — and Julia has to figure out how to get used to, and deal with the changes, at the park.
The series is part of two initiatives for Sesame Street, one of which was the nearly immediately launched Caring for Each Other initiative that the organization launched as soon as the pandemic hit in March. As part of that initiative, the neighbors on Sesame Street have published resources, videos, and held town halls for families and kids who are struggling with COVID-19. Alongside that initiative and the 2015 Sesame Street and Autism: See Amazing in All Children initiative, the folks on PBS have been helping families out in numerous ways, not just with the pandemic, but in general.