You Should Read the CDC's New Breast Pump Cleaning Guidelines
The updated guidelines were released after a baby contracted a rare but serious infection as a result of improperly cleaned breast pumps and collection kits.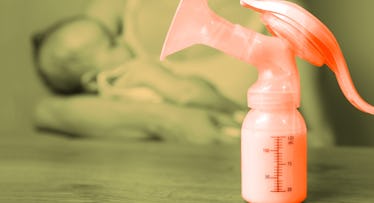 A premature infant born in Pennsylvania last year contracted an extremely rare but very serious infection, Cronobacter sakazakii, after feeding on breast milk from a contaminated pump. The infection led hospital officials, the county health department, and the Center for Disease Control to conduct a thorough investigation of the mother's breast pumps and collection kits. She was using two separate kits: one that was her personal pump and one that was the property of the hospital. Officials found that the mother had been cleaning her personal pump by soaking it in soapy water for around five hours, rinsing it, and air-drying her pump.
So what went wrong? New guidelines from the CDC that cover every part of the breast pumping process from before use to storage guidelines can give a clue. The mother was right to air-dry her equipment: the CDC says that towel-drying pumps can transmit germs from the towel to the apparatus. However, the mother's failure to scrub and sanitize it led to bacteria growth in parts of the breast pump.
Certain suggestions, like washing your hands before even reaching for the breast pump, and running the breast pump through a sanitize round in the dishwasher, can limit the risks of infection for your baby. The CDC also suggests that mothers wash their pumps completely in between sessions. This may be difficult for working moms, who may not have access to a dishwasher or a special wash-basin for their pumps and parts, especially not in the middle of the workday. However, the issues associated with skimping on the cleaning routine are too great to risk.
The dangers of infected breast milk are serious. While not every infected breast milk pump will carry C. sakazakii, other illnesses and bacterial infections are likely to occur if the breast pump isn't correctly sanitized according to the new and improved guidelines released by the CDC. And because breast milk is so important for a child's health and infections at infancy can be detrimental to cognitive development, being very disciplined with your cleaning routine could be the difference between health and developmental concerns. After all, breastfeeding your baby is linked to a whole slew of health benefits, including the decreased likeliness of SIDS.
As a new parent, it's difficult to have another thing to worry about. But this lesson shouldn't be learned the hard way, and being armed with as much knowledge as possible about how to protect your developing baby is an unequivocal good. Take the time to clean your pumps and be thorough. Your baby's health depends on it.