This Map Shows Every Country's Most Recommended Tourist Destinations
Despite some questionable choices, the map is pretty legit.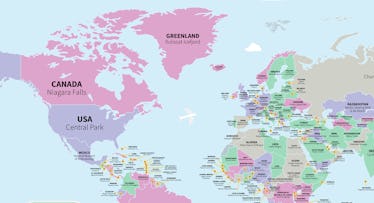 VoucherCloud
Voucher Cloud, a money-saving app that provides discount codes on travel and deals, recently released an exhaustive and colorful map of each country's most popular tourist destinations based on logged responses from Trip Advisor users. While there are some questionable choices, but the map is pretty legit.
The destinations are organized into four different categories: historic, natural, religious, and tourist. It's unclear what the difference between "Tourist," and the other three categories are because tourists are visiting each destination and rating them, after all. But this map was created by a money-saving app, so we can't really nitpick. In the United States, the most popular destination is Central Park. That's most assuredly a nature-based activity. And yet, it's marked "Tourist." For what it's worth, Central Park is man-made, but so was Machu Picchu, and that's Peru's most popular destination and it's "Natural." Is it just about how old it is?
Unsurprisingly, China's most popular attraction is the Great Wall, India's is the Taj Mahal, and Italy's is the Colosseum. Other non-shockers include the Acropolis in Greece and St. Peter's Basilica (being the sole attraction) of the Vatican City. Cambodia's most recommended attraction is Angkor Wat, which isn't surprising due to its historical relevance, and Spain boasts one of the most famous unfinished churches in Spain, the Sagrada Familia.
But some of the more popular attractions are actually pretty surprising: in France, rather than the Louvre, or the Eiffel Tower, the world-famous Musee d'Orsay is more commonly recommended, and in the United Kingdom, Westminster Abbey doesn't take the cake, but instead, the Harry Potter Studio Tour. It's even surprising that Central Park is the #1 attraction in the United States, considering the sheer size of the country and attractions like every single Disney or Universal studio and parks like Yosemite and Yellowstone, or, you know, the entire state of Hawaii. And why isn't Hobbiton from New Zealand on the list? But public opinion is public opinion, and if this map doesn't give you the travel bug, then nothing will. And of course, there's always the option of letting your kid plan the trip.
Check out Voucher Clow'd full map here.