Softball Team's Disqualification Shows Online Behavior Can Have Real Life Consequences
The Atlee Little League's Junior softball team was controversially suspended for an inappropriate photo on Snapchat.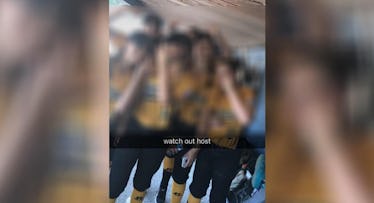 The Little League World Series is officially underway, but one softball team's tournament reached an abrupt end thanks to a controversial social media post. Over the weekend, Atlee Little League's Junior softball team was disqualified from its World Series championship matchup because six members of the team posted a Snapchat photo in which they were flipping the camera off. Apparently, the photo was directed at the host club from Kirkland, Washington, which Atlee (representing Virginia) had defeated in the semifinals.
When Atlee manager Scott Curie found out about the post, he immediately had the girls responsible apologize for their actions. But the damage was already done. Just hours before their Championship matchup, the team was disqualified from the tournament due to inappropriate behavior.
Up to this point, Atlee had been one of the top teams in the tournament, going undefeated the whole way and quickly becoming a favorite to win the championship. That dream, however, was cut short and some feel the severity of the punishment was way too harsh, including the team's manager.
"It's a travesty for these girls," Curie said Saturday afternoon. "Yes, they screwed up, but I don't think the punishment fit the crime."
Online, opinion has been largely divided, with some saying the disqualification was over-the-top and others saying it sent the right message about conduct and sportsmanship.
Regardless of anyone's personal feelings, this is one the latest incident that illustrates that kids need to be taught that their behavior on social media can have real world consequences. Too often, kids exist in a bubble and forget that what they do online can be easily seen by more than just their intended audience. Atlee was forced to learn this lesson the hard way and until kids are taught to be responsible for their actions online, they won't be the last.