John Legend Had a Pitch-Perfect Response to Social Media Dad-Shamers
After a fan on Instagram shamed John Legend for simply holding his daughter, the singer fired back with calm precision.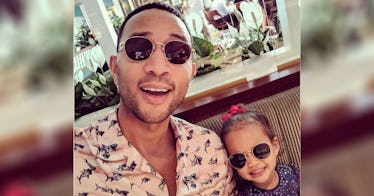 Instagram / johnlegend
It can be hard for any parent to let negative comments about how they raise their children just pass right over them. After a fan on Instagram tried to shame singer (and Father of the Year Honoree) John Legend for simply holding his 22-month-old daughter, Legend let all his haters know just how indifferent he is to their comments in the calmest way possible.
The upset fan took to the Instagram comments to drop her take: "So tired of seeing them carrying her. She needs no legs then," referring to Legend and his wife, Chrissy Teigen.
Since she's never seen a social media interaction she didn't want to clown, Teigen hopped into the comments section to defend her husband and chide the irate commenter: "Are you so tired of it? Does it make you so sad and upset we are so sorry to make you, queen holland messier of the universe sad and upset? What can we do for you to make it better, sweet angel."
It wasn't until after his wife fired back at the remarks that Legend chose to address the comment at all, in an interview with Entertainment Tonight. "Yeah, it was hilarious people, you know, I think people kind of, they see one photo and they want to make judgements about how people live their life and I think the best advice for all of us is, let parents be parents and don't criticize on what you see on social media."
This isn't the first time the couple has been targeted for their parenting skills. Back in January, Teigen was criticized for riding down a slide with her daughter seated in her lap, which is more dangerous than it looks for kids that age.
As a celebrity, Legend's dad skills are always going to be under the microscope. Given that he and Teigen are expecting another child, however, they likely won't have as much time for the Instagram trolls in the near future.
This article was originally published on