Confucius once said, "Choose a job you love, you will never have to work a day in your life." That's easy for him to say, he had that Confucius money. You hopefully don't always hate your job, but likely don't always love it either. Still, is it one of the worst jobs of 2016? CareerCast analyzed 200 careers based on environment, income, outlook, and stress and ranked them from best to worse — in case you want to tell your kids what to be when they grow up.
According to the final list, your kids would be better off digging ditches than they would be working in traditional news media: Newspaper reporters ranked as the worst job of 2016 and broadcasters weren't far behind, coming in as the 3rd worst job right after loggers. Ouch. That's mostly due to the declining amount of opportunities: Employment of broadcasters is expected to decline by 9 percent (4,800 total positions) by 2024, which means there will be way more podcasts out there than there already were. The other terrible jobs that made up the bottom 5 were enlisted military and DJs — 2 jobs that could get you beat up for very different reasons.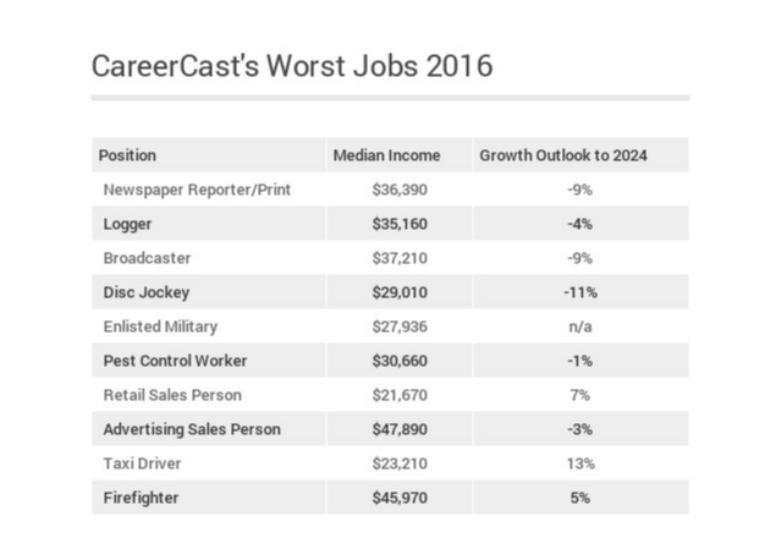 CareerCast Jobs Rated Report
---
The list also looked at the positive side of employment and found that the best job of 2016 was a data scientist. That's right, the people making this list also won it, so maybe the game is rigged? Probably not. Statisticians were a close second, while mathematicians ranked as the 6th and actuaries ranked as the 10th best job. A recent McKinsey report predicted that by 2018 the U.S. could face a shortage of 140,000 to 190,000 people with deep analytical skills. It seems like having the best possible careers is literally a numbers game. Better start teaching your kid (and perhaps yourself) how to work with them. Here are a few apps that might help.
[H/T] Fast Company