When the Fighter Lost His Son
"If someone would have told me that a 72 year old woman was going to take my son's life, I would have laughed, because I always felt I could protect my family, my wife, my child."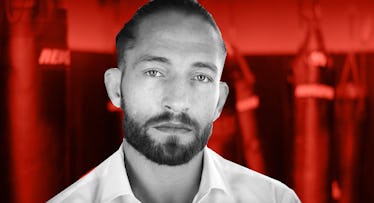 Sweden-born MMA star Marcus Kowal made a name for himself fighting in the Bantamweight division of Strikeforce before it was absorbed into the UFC. During that time, he made a life for himself outside of the octagon, opening two training gyms with his wife, Mishel Eder, and welcoming a son, Liam, into the world. Kowal had punched and kicked and hugged his way to a good place and he knew it. Then, on September 3rd, 2016, Liam was struck by a 72-year-old drunk driver while walking with his aunt. The 15-month-old boy was declared brain dead. The next day, he died.
The day after they buried their son, Kowal and Eder created the Liam's Life Foundation to raise awareness of drunk driving and its victims. Marcus wrote a book. He lobbied California politicians to lower the legal blood alcohol content limit. He helped produce a documentary, called "Letters to Liam," about lives shattered by intoxicated operators. In short, Kowal kept moving. But no amount of action can allow for a loving parent to grapple free of grief. Grief knocks down men and women who lose their children.
Kowal spoke to Fatherly about his struggle to get up.
It must have been difficult to go through something you never saw coming.
I'm a professional fighter. If someone would have told me that a 72-year-old woman was going to take my son's life, I would have laughed, because I always felt I could protect my family, my wife, my child. I learned a lot in the year that's passed.
What was the most difficult part of the process?
Wrapping your brain around the fact that your child was no longer there. The hardest moment out of everything that we went through — and I write about this in the book — was when we had to walk away. Because he was on life support, it looked like he was breathing and sleeping. He didn't have a lot of cuts and bruises. To walk away from your child when it looks like he could be asleep was the most horrible moment of my life. I wouldn't wish it on my worst enemy.
What did you learn over the year?
I learned a lot about how big of a problem drunk driving is in this country. Someone dies every 53 minutes because of drunk driving. It's the number one cause of child deaths.
I didn't know at the time that 23 people die every single day waiting for an organ. We decided to donate Liam's organs so we could save other lives. Someone asked us if it was a difficult decision for us to make and it wasn't. Both me and my wife are organ donors, the decision in itself wasn't a difficult one.
Did it shock you that drunk driving was as widespread as it is?
I'm originally from Sweden, where we have zero tolerance. I already knew that drunk driving was fairly common in the United States. I didn't know that 66 percent of the U.S. population will at some point be affected by drunk driving. The amount of people that are killed by drunk driving is equivalent of a jumbo jet crashing every single week. If a jumbo jet was crashing every single week, we would do something about it.
The accident happened on the September 3rd. Liam was brain dead on the 4th. We buried our son on the 12th of September at 6AM. On September 13, we met with a lawyer to set up our non-profit. Four days after the accident was when I started writing the book.
What is the larger purpose of your nonprofit?
We want to get the legal BAC down from .08 to .04. Two weeks ago, we flew up to Sacramento to meet with the Lieutenant Governor's team and they are supporting our proposition that is going to be a bill.
That sounds like quite the battle. How was writing your book? Was that about grief or the message of drunk driving?
I wrote 90,000 words in three months, over a thousand words a day. I realized that many years down the line, a lot of parents who lose children remain very bitter. A lot of times they turn to drugs and alcohol. I certainly don't condone it, but I can relate to it because you've become almost desperate to find a way to numb the pain. There are a lot of books that have been written about child loss by mothers, but it's not as common for dads.
A lot of times people think that speaking about grief or hurt is the same thing as being weak. It's certainly not. It's necessary.
What do you think is the least understood aspect of grief?
It doesn't matter how much you try to prepare yourself, you can't imagine the pain. I've never had depression, I never had mood swings. For the first time in my life, I've had to actually deal with depression. You wake up in the morning and you just don't even want to get out of bed. But for me, my drive, my fire, my fuel is my son. I'm not going to stop until a change has come because of my son.
How did you manage to get out of bed, even though it was so hard?
For me, the healing process was martial arts in itself. I'm a bit biased because it's what I do, but punching things actually helped a lot.
Punching things sounds like it helps, but you must have done some other stuff, too.
We gave out three scholarships through the nonprofit this year to a university that has an honors program for autonomous cars, which is the ultimate solution: taking the responsibility out of the human's hand. We had a Super Bowl commercial, we wrote a children's book, that is now an e-book that is going to become an actual book, on teaching kids from a young age to make wise decisions.
It's a big part of fighting to not be willing to give up. How do you do that when what matters most is gone? Is taken from you?
You have a living son, Nico, who is four months old. Tell me about him.
Nico's birth was the brightest light in the past year. It also brought back a lot of emotions and opened up wounds. He looks so much like his brother that it's difficult for my wife and I to see the difference between them in pictures. It was the same doctor at childbirth in the same room. The first week was really difficult for Mishel. That was one of the hardest things as well: as a husband, as her man, to see her in so much pain and not be able to do anything about it, but just be there for her.
The name Liam means "the people's protector." The way that he has become the "people's protector" was certainly not the way we had wanted him to be, but we can't go back in time and change that. During this year, there were so many people who were so supportive and amazing that when we found out Mishel was pregnant with Nico it didn't feel like it was just our victory, but the people's victory. Nico's name means "the people's victory."