TikTok Divorce Videos Are a Thing. And They Are Ridiculous
And yet, very entertaining.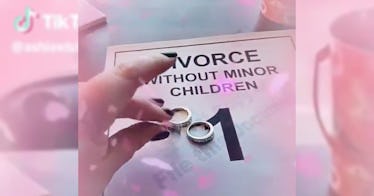 ashleelukens/tiktok via twitter/_wildmilk
Years ago, reeling from heartbreak, I got drunk and made my way to an ex's apartment with the intention of winning her back. What did I plan on doing? Who knows. What did I end up doing? Getting sick on her building's front porch and running away only to get a ticket for public urination an hour later. Not my best moment. This is all to say that breakups and divorces make us do terribly stupid things. Luckily, I did not have TikTok at the time.
I get it. And I am sympathetic. However, my sympathy turns into schadenfreude very, very quickly, and I will laugh at your particular brand of misfortune if you do one thing: post about your divorce on TikTok. Yes, TikTok divorce videos exist and they are even more ridiculous than you assume. I scroll through them at night with tears of laughter in my eyes. I've woken my wife up because my cackles have been so loud. They are my favorite genre of new-age internet video. I hope they never stop.
For the uninformed, TikTok is a short video social media platform allows users to upload 15-second clips — many of which are set to music and utilize lip-syncing. It's silly, easy to use, and really fun. There are hashtag challenges that spawn and lots of irreverent, goofy Internet nonsense to explore. As with every wildly popular social media platform — TikTok boasts 1 billion users worldwide — there are sub-trends that appear and are quickly replicated. One such trend? Sad divorce.
Sad divorce TikTok is a corner of the app where people dramatically post about their divorce and breakups. There are different forms of video. One of the most popular — and my favorite — is the "Ring Toss," which features men and women walking into frame, pausing dramatically, and then tossing their wedding rings towards the camera as the sad song plays. Another is the "House Tour", which sees a someone panning through their empty home. Yet another is the "Paperwork Flip," which sees people thumbing through their divorce paperwork, often with the wedding rings on or near the packet.
(There's also the "James TW" video. This is a different beast. It features a father sitting with his child and lip-syncing "When You Love Someone" by James TW — specifically the lyrics "Sometimes moms and dads fall out of love. Sometimes two homes are better than one Some things you can't tell your sister 'cause she's still too young. Yeah, you'll understand. When you love someone." I don't find this funny; in fact, I find it quite sad. Don't use kids as pawns in these videos.)
Let me tell you: these videos are ridiculous. Think about it! These people tossing their wedding rings towards the camera and tagging it #divorce. That's so silly. What a decision! Divorce sucks. But of all the things to do, you announce it to the world via an overly dramatic 15-second video soundtracked by a Hasley song to an app where 41 percent of users are between the age of 16 and 24?
Think of the person shooting this making sure their posture is believable before they tossed their wedding band towards the camera. Think about them missing the throw and needing to do it again and again. Think about these people changing locations to get better lighting. I'll never find these things not funny. It's so absurd!
Listen. When you're experiencing a bad breakup, social media is so tantalizing. You have access to a community of others who are there to offer sympathy, perspective, understanding. Uploading a divorce video is a way of alerting folks to your situation and combating the sheer loneliness that accompanies heartbreak. (And, let's not kid ourselves, it's also a direct way to let people know you're single again). There are certainly some positive aspects that come out of a TikTok post. People see these videos and know they're not alone. Conversations about abusive relationships are started. These are important topics for which dialogue is always necessary.
But, to my other point: Ha! Twitter user @_wildmilk brought divorce TikTok to the masses when responding to a thread about underrated TikTok categories. And I think her initial pitch-perfectly sums up their sheer absurdity: "The most underrated Tik Tok category is when couples who are divorcing or whatever make sentimental vids about it…like imagine you've tearfully asked ur husband for a divorce, dropped the kids off @ ur parents, & go online to see your husband posting this on an app for 12 y/o's"
Listen, if catharsis comes from posting divorce videos on TikTok, don't let me stop you. I'm not here to yuck your yum. Post them whenever you want. Divorce can be excruciating. Just know that I'm there feeling for your situation while simultaneously laughing my ass off. As they say, one person's heartbreak is another's hilarity.
This article was originally published on