Desmond Is Amazing and the Art of Raising a Child Drag Queen
Andrew Napoles jokes that his son was never in the closet because there wasn't enough room for his fabulousness.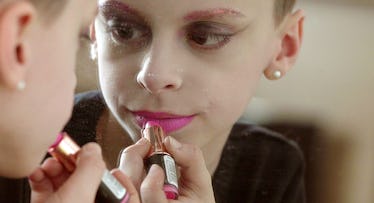 Fatherly
Andrew Napoles jokes that his son never went into the closet because there wasn't enough room in there. "I have a picture where I'm holding him and he's the length of my forearm," says Andrew. "He's sitting there with a little smile on his face, posing for the camera. Five minutes after he's born. We should have known right then, but we didn't."
By the time Desmond was two or three, it was clear to his parents that he was likely gay. They had been testing him, exposing him to different things. What did he like? The Sissy Duckling, a 1999 animated film about a duckling that doesn't quite fit in. He named one of his two fish after him. RuPaul's Drag Race. Pride parades. Musicals. It wasn't that he was indifferent to sports, but that he saw them as a distraction from fashion and performance. When Desmond was only two years old, he started refashioning his mother's clothes to make dresses and headdresses.
This was not behavior he learned from his father, a reformed "Lower East Side Skinhead" who wears Hanes-style t-shirt, hoodies, and old sneakers. His mom, who is very close with her gay uncle, opened her closet and the doors to gay culture. Desmond did not encounter any resistance. He went into kindergarten openly gay.
"Openly gay," in this instance, didn't mean having a big coming out party with goldfish crackers and mocktails served in sippy cups. It meant that Desmond didn't hide who he was and his parents didn't suggest butching it up as a social strategy.
"When he first started school, we worked with the principal to come up with some anti-bullying policies. We would go to the teacher meetings at the beginning of the year to let them know that he might get bullied because he's a little bit different from the other kids," says Wendy.
Desmond has been picked on. But he seems to have completely internalized the idea that this is the result of other kids' struggling with their own problems. Just the other week, when a kid came up to him in the lunchroom and told him he should be using the girls restroom and not the boy's, Desmond went home to tell his mom. "We had a good laugh about that," Wendy said.
Desmond's first pride parade was when he was around two years old. He didn't ask, but Wendy and Andrew wanted him to know what was out there.
"We let him go every year and we let him watch, which interested him for a while," says Andrew. "But, like any kid, after a while he wanted to do something else. Which is what we figured would happen when he walked. He vogued the entire route — two and a half miles."
That was in 2015 and that was the moment that Desmond marched into the public eye.
People noticed the little kid in drag not only because he was a little kid in drag, but because he was good at it. At eight years old, decked out in rainbow taffeta, light up sneakers, and a little bit of makeup, Desmond danced like everyone was watching. The next morning, he was on Perez Hilton. Media requests poured in. Wendy hesitated to respond. She took Desmond to a therapist, who spoke to both of them before encouraging them to relax and go for a ride. They did. Wendy and Andrew figured it would last, for better and for worse, about 15 minutes.
"At first, it was a little bit scary," Wendy remembers. "It was a bombardment that we didn't expect. And that bothered me for a little while."
Desmond enjoyed the attention. He liked putting on costumes and voguing and speaking in pull quotes. He was playing around. The unexpected thing was that demand didn't die down and that adults took his hobby — the after-school play of a little kid — very seriously.
In July, 2017, Desmond accepted the Marsha P Johnson Award, named for the murdered transgender activist who threw the first stone in the Stonewall Riots, after walking in the Brooklyn Pride Parade. In December of 2017, internet trolls directed a forum to leave nasty and hateful comments on Desmond's Facebook page, and managed to get Wendy's account banned twice in one week. Trolls commented on his Instagrams. They sent him direct messages. They posted the Napoles' home address.
Desmond knows this happened and, to some extent, is still happening — he calms his father down when he starts to get heated — but his parents mostly keep it at a remove. They choose his interviews. They curate his social media. The public part of his life seems to take place in a bubble of fabulousness. Just because his way of being in the world —having fun, really — is easily politicized does not make him a political. He's into eyeliner in the same way some of his friends are into dinosaurs.
But, yes, it is a bit different. It's not possible for Desmond to do what Desmond wants to do and in the way he wants to do it — which is to say publicly — without people noticing and without people having an opinion.
And, yes, there are real consequences.
After Wendy left her last job as an office manager for a Brooklyn construction firm in April, she found herself struggling to get job interviews despite there being a consistent demand for office managers and human resource professionals.
"I have 15 years of experience," she says. "I thought it would be very easy for me to find another job. That ended up not being the case. When I was trying to get a job back in the corporate world, people would Google me. If you just Google my name randomly, you're going to come up with a lot of good things. But you're also going to come up with a lot of things that say, 'She's a child abuser' or 'She's into pedophilia.'"
It's hard to tell whether or not Desmond knows the extent to which his parents have sacrificed for him. He knows that they love and accept him — and if they didn't, he says he would just "leave." (Andrew shakes this off as nothing more than attitude, but is quick to admit his kid would do drag even without his blessing.) But Desmond is a kid who doesn't know what it's like not to have the support of his parents. He never will.
Wendy hasn't considered pulling the plug on public appearances in order to make getting a job easier. Instead, she's doubled down. She calls herself his "dragager" and openly admits that if his career takes off, it'll be a full-time gig. She'll be a showbiz parent. There will be rehearsals and expenses and late nights and busy weekends.
This isn't what she chose, it's what Desmond chose. But acceptance and attention have created a feedback loop. Whether it's virtuous or vicious is a matter of perspective, but it looks happy. Desmond looks happy.
"He had plans that we had to be on board with. He had to be here, he had to be fabulous, and nothing was going to stop it."
"Welcome aboard!" quips Desmond.