The Real Takeaway From the Bill and Melinda Gates Divorce Announcement
A marriage can end without it being a failure: It takes courage to see it, admit it, and then take the necessary steps.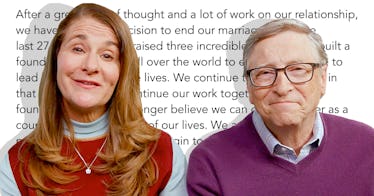 It's been a year of reflection and restraint, to say the least — a domestic pressure cooker of a year, in which millions of people in marriages were forced to reckon with themselves in new ways. Even then, it came as a shock when, on May 3, Bill and Melinda Gates announced their plans to divorce, after 27 years of marriage. Their relationship was, by all accounts, a loving partnership, one that had started on the relative ground floor and moved up into stratospheric heights. If the power couple of all power couples wasn't somehow indemnified against romantic failure by good fortune, how could the rest of us feel remotely safe?
News of the high-profile split quickly spawned hundreds of memes poking fun at what single Bill Gates might be like and speculating about what the divorce will mean for the stock market as well as the tech and philanthropic worlds. More than a few journalists fixated on the easy irony of billionaires falling prey to ordinary forces — as if billions could be deployed to fix all the things that can become mysteriously broken between people.
"Just imagine how many hours of couples therapy you can afford when you're among the world's richest people. Or the shared sense of purpose you could forge while raising three children and running a $50 billion charitable foundation with your spouse," begins an above-the-fold opinion piece by Lisa Bono in The Washington Post. "Then imagine that it's not enough to keep you together."
When billionaires divorce, Bono theorizes, regular folks are stunned in part because most couples argue most often about money — if financial stress is cut from the mix, what's so wrong that it can't be fixed? Watching the mighty stumble in very human ways is its own ancient satisfaction, and Bono argues that we find such splits cathartic: Billionaires are just like us and have to wrestle with shifting goals and growing apart. From the unique pressures of the pandemic to the uncomfortable truths that come to light once kids are grown, every marriage will have to confront itself eventually.
But does that difficult, relatable reckoning constitute a failure? To have made it work for 27 years? To have raised three children, while building a global charitable powerhouse that's meaningfully improved lives all over the world? Divorce doesn't always mean that a marriage has failed — it can simply mean that a journey has reached its true destination.
Are there marriages that are spectacular failures? Of course there are. The world is full of examples: individuals who tear each other down, couples that shouldn't have gotten married in the first place. But marriage can also end without it being a failure: It takes courage to see it, admit it, and then take the necessary steps.
"After a great deal of thought and a lot of work on our relationship, we have made the decision to end our marriage," the Gates' divorce statement said. "We have raised three incredible children and built a foundation that works all over the world to enable all people to lead healthy, productive lives. We continue to share a belief in that mission and will continue our work together at the foundation, but we no longer believe we can grow together as a couple in this next phase of our lives."
We're accustomed to seeing a united front from high-profile couples calling it quits: But their joint statement is a testament to a legacy that's been bigger than a mere marriage for a long time, a legacy they seem committed to protecting. What caused the Gates to divorce? Perhaps in the next few weeks, we'll learn more, or perhaps we'll never have a clue. The safest bet: People change.
Divorce is world-leveling, a loss that's incredibly difficult to endure, but the Gates' are not alone. While the divorce rate has largely slowed, there's one demographic that has seen a spike: couples over 50. So-called "Gray Divorce" accounts for one in four divorces. What contributes to the uptick? Well, some factors include the sheer number of baby boomers in the U.S. (74.6 million), increased life expectancy, and shifting ideas of marriage.
Surely money is at the root of many "failed" marriages — even if fighting about money is almost always a fight about something deeper. So if the wealthiest among us can't make a marriage work, what does it mean for the rest of us? Not much. Sometimes a relationship runs its course, and the end product of decades of hard work isn't more marriage, but something else — a legacy, a family, individual growth. In that sense, there's no such thing as failure in the relationships we work hard to make loving, fair, and enduring. It's possible Bill and Melinda Gates, as a couple, have earned something very ordinary and highly prized: a new beginning.
This article was originally published on