Risky Sexual Behavior Study Confirms 'Daddy Issues' Are No Joke
Researchers find how father's interact with daughters may influence risky sex.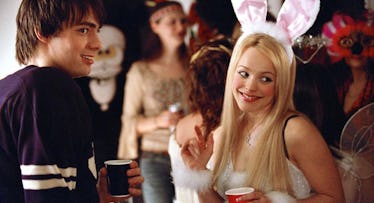 Daughters are less likely to engage in risky sexual behaviors when their fathers communicate openly and keep tabs on what's going on in their lives, according to a new study. Researchers found that "high-quality" fathers who monitor their daughters' peer associations and activities in a positive way can help their girls avoid the sexual pitfalls of the teenage years—suggesting that maybe poppa wouldn't have to preach, if he were more engaged in the first place.
"Being there is important, but is is not enough to have a cardboard cut-out of the dad sitting on a couch watching TV," the University of Utah's Bruce Ellis, coauthor on the study, told Fatherly. "It is important to do positive things, such as speaking to your daughter in a warm and friendly voice and making her feel wanted."
On the other hand, the study suggests that it's just as important for a father to avoid negative behaviors. Coauthor Danielle J. DelPriore, also of the University of Utah, explains that the study looked at two primary components of father-daughter relationships, including affection and understanding on one side, and insulting and coercive behavior on the other. "High quality fathering in our research included high amounts of warmth and supportiveness and low amounts of harsh or coercive behaviors directed toward daughters," she told Fatherly. "Our research suggests that it is not merely about the time, per se, that fathers spend with their daughters, but what they do during that time."
Isolating a father's affect on a daughter (independent of confounding variables such as genetics and environment) can be tricky, so researchers looked at sisters in so-called "biologically disrupted families". This meant a sample of 101 pairs of sisters between the ages of 18 and 34, at least four years apart in age, who had each experienced a different number of interactions with their father due to divorce. Older sisters naturally received a larger "dose" of the father's parenting.
Ellis and DelPriore found that sisters who received more high-quality parenting were less likely to engage in risky sexual behaviors. "By having a high-quality relationship characterized by warmth and supportiveness, this may encourage daughters' to communicate more openly with parents about who they are hanging out with, and how they are spending their free time," says DelPriore. "Opening the lines of communication and encouraging daughters to affiliate with friends who are good influences can decrease their likelihood of engaging in risky sexual behavior during the teenage years."
This backs up the bulk of expert opinion suggesting that keeping open lines of communication with daughters is essential. That appears to be particularly true when it comes to digital technology where daughters are apt to engage socially with peers who could encourage risky behaviors. But the study also discourages coercion, screaming, and threats—because, while this may seem like a logical response, it's unlikely to have the desired effect.